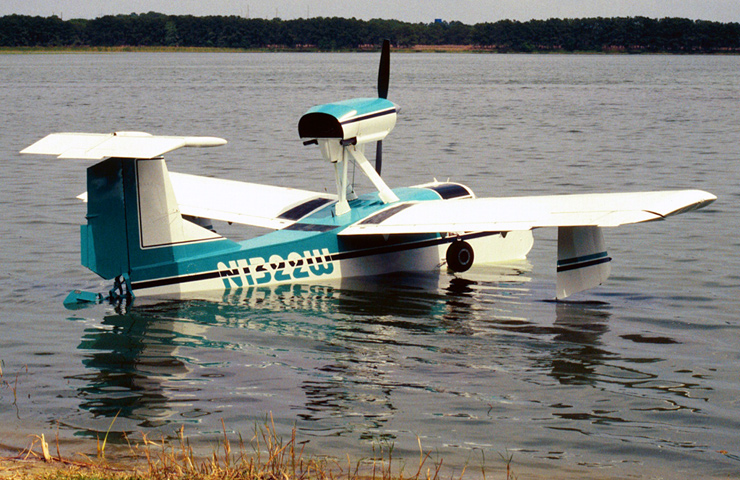 2002 Dec. 30
G-OWET - Wet and Cold

Yesterday, fellow Air Britain (Historians) member John Tietjen kindly visited Andrewsfield, Essex, England, and took some photos of G-OWET, Teal A/C TSC-1A2 Teal (s/n 37) for the Teal Web Pages. G-OWET has been sitting on Andrewsfield for at least three months and is apparently awaiting service/repair.

G-OWET (s/n 37) at Andrewsfiel, Essex, England on 2002-12-29
Photo: © John Tietjen

From the picture, England seems to be wet and cold this December... Hopefully, John is warm again after visiting G-OWET for us! Thank you very much, John! A few more of his photos have been added to the Photos section

G-OWET is listed as owned by David Nieman; Thame, Oxford, England, and she is normally based at Turweston Airport. From March 2003 she will be the only Teal left in the UK, when G-TEAL (s/n 15) will be shipped to the USA, as reported below.

2002 Dec. 29
Teal 'Production' News

As previously reported, several (10+) Teals are currently at some stage of restoration, rebuild or conversion. At least five of them (s/n 3, 14, 19, 34, 36) will be restored and converted to 'zero-time'/'new' condition by Lake Central Air Services (LCAS) at Muskoka Airport, Ontario, Canada. (See 2002-06-16).

First out, s/n 19 has now been transported from storage outside St. Thomas to Muskoka Airport. Originally a Model TSC-1A1, s/n 19 will be converted to Model TSC-1A2 configuration with the installation of flapped wings, and will be completed with a new 160 hp Lycoming O-320-B3B engine.

The planned 'production' schedule is that s/n 19 and s/n 36 will be completed first, followed by s/n 3, s/n 34 and s/n 14. Teal s/n 14 was acquired from Independence, Oregon, USA, by Richard Callis this Fall. An owner of s/n 14 reportedly died, and the aircraft was purchased by a homebuilder who wanted the engine and propeller for his RV-9 hombuilt project. S/n 14 supposedly is damaged from an unreported landing accident on land. Any information on s/n 14 will be appreciated...

The wreck of Teal s/n 24 is also located at Muskoka Airport. S/n 24 might be a possible rebuild at LCAS. Last owner is reported to be Duane Hicks.

The remaining inventory of spare parts and components from the original production of the Teal amphibian is also located at LCAS now, and is in final stage of organizing and will soon be available to Teal owners.

If you have Teal restoration news to report, please contact Webmaster Steinar Saevdal.

2002 Dec. 28
Teal S/N 15 Update

As reported on 2002-10-31, Teal s/n 15 (G-TEAL/C-GDQD) has been sold by Rodney Heaton to new owner Tom Beck - on 7 September 2002. Registration mark 'G-TEAL' was officially cancelled from UK Register on 2002-05-24. Acctually the 'G-TEAL' registration was never applied to the aircraft, when the Teal was damaged by windstorm in January 1993, before that could be done. The fuselage today still has the old Canadian registration 'C-GDQD' painted on.

C-GDQD at Crosland Moor (West Yorkshire, UK) on 1993-03-20 not
long after it had been blown over in the 92/93 winter gales.
Photo: © Keith V. Tayles

Tom is a 59 year-old Engineer and Pilot currently flying Boeing 757 & 767 for a UK charter airline. Tom has previously rebuilt a Jodel D140C and a DHC-1 Chipmunk, which he keep locally on a farm strip.

Tom is due to retire next July and has bought a plot of land at Eagles Nest in Florida, USA, and he is in the process of having a house built on it which should be ready next March. He then hopes to build a hangar next to it. Tom plans to spend the winters in Florida. The site has access to a lake as well as a grass runway which will give Tom great flexibility with the Teal. He retains his full Instructors Rating and floatplane licences so he ought to be able to do quite a lot with the Teal and have a bit of fun too.

No. 15 will be shipped in a 40 ft container to Florida next February or March. Tom will meet it there and assemble it in time for next winter. There are extensive fresh water lakes and large stretches of open water in the area so there will be no need to land on salt water.

Tom estimates that about 250 hours of work remain. The damaged aileron, elevator, tailplane and fin are being rebuilt at Chessington by Marc Ansty, a friend of him who does some good work and can certify the repairs. Tom has reassembled the engine installation and fitted it to a new pylon. The whole assembly is secured to a wooden pallet for ease of transport. All the fibreglass fittings have been repaired and are ready to ship. The fuselage repairs are almost complete - just the nose cowl and windscreen remain to be fitted. The Janitrol heater has not been re-installed - it shouldn't be required in Florida... A new prop and hub have been acquired and are in store in FL. Tom has promised to keep us informed about the progress of his Teal project.

2002 October 31
Teal Rebuilding News

It has been reported that Teal s/n 1 (N1968S) is about to be completed after a rebuild at Flagler Beach, Florida, USA. According to the report, N1968S will be flying in a week or so. The US Register lists N1968S as owned by Per Aanonsen, Flagler Beach, Florida. It is also reported that UK Teal G-TEAL (s/n 15) will be shipped to the USA in March 2003, to be rebuilt at Flagler Beach. S/n 15 was owned by Rodney Heaton; Yorkshire, England. She has been sold to Tom Beck, Cuckfield, Sussex, England. Mr. Beck will register s/n 15 in the USA.

Several Teal amphibians are currently under restoration or rebuild. At least 10 Teal restoration projects are known at this date! A 'Restorations' Page has been made to list Teal Restoration Projects, in order to unite Teal restorers for the exchange of parts, rebuilding tips and inspiration. If you have Teal restoration news to report, please contact Webmaster Steinar Saevdal.

2002 October 25
Teal News From WA and FL!

Michael Schad, living in Shelton, Washington, is the proud owner of Teal # 32 (N87857), the first of 7 Teals (s/n 32 thru s/n 38) built by Teal Aircraft Corporation (TAC).

Michael reports that his Teal has been in a two year restoration project. He writes;

- I saved this Teal from the elements of weather and salvage and promised to myself that this TEAL would fly again! I am nearing the end of this restoration.

Michael is putting forward the good idea of having a Teal Splash-In organized, to see other Teals and to meet other Teal owners and enthusiasts. Through these Teal web pages he hopes that this idea can come true. Please contact Michael from the Contacts page.

From the other side of the USA, Stuart Hanley reports from Florida;

- I own Teal # 35 (N1322W)... The Aircraft has about 400 Hours total time, and is in great condition. I fly it regularly, mostly to local "Splash-ins", and the occasional camping trip with my wife. Mostly I just give rides in it to my friends, to show them the joys of flying off the water! It has truly been a perfect sport aircraft for me. I am happy to talk to the other owners, and I do have some info to pass on regarding the care and feeding of the TEAL.

Beautiful N1322W !
Photo: © Stuart Hanley

Thanks to Stuart giving Teal rides at Sun'n'Fun 2002, Guy Godfrey decided to buy Teal s/n 2 (N2002T), as reported below. Visit Contacts page for Stuart's phone number or e-mail address.

2002 October 13
Teal S/N 25 Under Restoration

Malcolm and Virginia Peck, owners of Teals s/n 18 (N2018T) and s/n 25 (N2025T), report that s/n 25 is still undergoing restoration. S/n 18 has been cannibalized for parts. They have some spare parts available. Please visit Contacts pages for their address.

Malcolm and Virginia live in Jefferson, Maine.

2002 October 10
Teal S/N 2 has a New Owner

Teal s/n 2, N2002T, has a happy new owner; Guy M. Godfrey of Tampa, Florida. N2002T is currently based at KTPF, Peter O'Knight Field, Tampa FL. Ownership was registered by the FAA on 22 August 2002.

Guy is a Corporate pilot flying out of KTPA. He got hooked on seaplane flying by #35 Teal at Sun n Fun 2002 Splash in.

2002 Sept. 09
Teal in 1973 Cult Movie

Mr. Andy Evans informs by e-mail that Teal s/n 7, G-AXZN, appeared in the 1973 cult movie "The Wicker Man"! The film casted actors like; Edward Woodward, Christopher Lee and a nude Britt Ekland... The film starts with the Teal flying over beautiful Scottish scenery...

2002 July 01
Teal S/N 16, TU-TWA, in Museum

Mr. Alex Hamelink confirms that Teal s/n 16, TU-TWA, is preserved and displayed in good condition inside the French seaplane museum 'Musée Historique de l'Hydraviation'; (332, avenue Louis Breguet - F-40600 Biscarrosse - France). Alex spotted TU-TWA when visiting the museum on May 19th 2002. Thank you very much for the good news, Alex!

TU-TWA (s/n 16)
Musee Historique de l'hydraviation; Biscarrosse

, France.
28 July 2006
Photo: © Pascal Schoch
Large photo at www.airliners.net

2002 June 17
Teals S/N 11 and S/N 33 Under Rebuild

Owner of Teal s/n 33 (N334AZ), Mr. Kerry R. Gorman, reports that his Teal is under restoration, after being purchased in dismantled condition in 1999. Kerry is interested in obtaining a set of 4 wing beam bolts for his rebuild project. Also, he is interested in a list of design mods for which drawings/parts are available, i.e., 180 hp conversion, battery forward to bow compartment, bilge pump installation, electric tach, etc. Please contact Kerry Gorman if you can help.


Kerry also reports that another rebuild is underway in Tennessee on s/n 11, by Harry L. Hargis who operates Cedar Glade Aeromarine Inc

., at Christiana, south of Nashville.

2002 June 16
Four 'New' Teals Under Assembly In Canada

Lake Central Air Services (Mr. Elton Townsend), Muskoka Airport, Ontario, Canada, has recently made an agreement to carry through a project to complete four Teals using the remaining inventory of parts and components from the original production of the Teal amphibian. The four Teals to be completed to 'new' condition are; s/n 3, s/n 19, s/n 34 and s/n 36. Two of the Teals have already been secured; s/n 36 to Mr. Richard S. Callis, Alaska, USA and s/n 34 to Mr. Arnfinn Halland, Norway.

The plans for final assembly are as follows: S/n 3 will be completed as a Model TSC-1A1/EW with standard 150 hp O-320-A3B engine, no flaps, but with extended wings and extended horizontal stabilizer, as already installed on s/n 1 and s/n 15.

S/n 19, originally a Model TSC-1A1, has been converted to Model TSC-1A2 configuration with the installation of flapped wings, and will be completed with a new 160 hp Lycoming O-320-B3B engine.

S/n 34 and s/n 36 will be completed to Model TSC-1A3 configuration, with a new 180 hp Lycoming O-360-A1H6 engine, mounted on a new type engine pylon, with a new design engine cowling. The carburetor will be of "horizontal" type (not "updraft" type as installed on 180 hp S/n 22).

The four aircraft are currently stored together with the Teal spare parts stock in a hangar outside St. Thomas, Ontario, sitting on their wheels, all sheet metal work completed, except s/n 3's extended wings, which are not fully completed yet. All aircraft are now ready for the installation of engine, cockpit interiors, electrical wiring, instruments and radios.

Teal designer legend David B. Thurston recently completed a design review of the current Teal model inventory, to update all drafts, design calculations and paperwork for original models TSC-1A, TSC-1A1 and TSC-1A2, and to include the new models TSC-1A1EW (extended wings) and TSC-1A3 (180 hp). For the first time all Teal design modifications done the last two decades have been collected and documented.

S/n 3 and s/n 19 are intended to be for sale. This is an opportunity to have an economical two place amphibian aircraft completed to the buyer's specifications. Optional third seat is certified and will be available. One aircraft will be equipped with a 150 hp engine and the other with a 160 hp. Pricing is expected to approximate $65,000.00 USD.

For further details, please contact: Lake Central Air Services, Muskoka Airport (CYQA), R.R.#1, Gravenhurst, Ontario, CANADA P1P 1R1, Tel : (705) 687-4343, Fax : (705) 687-8983, E-mail: mailto:elton@lakecentral.com [Elton Townsend].

2002 June 03
Exciting News On S/N 15!

The new (second) UK owner of Thurston TSC-1A1 Teal s/n 15, Mr. Rodney Heaton, reports;

It is indeed G-TEAL Serial No 15 that I have. This I bought as you know from Kenn Heeley, who I understand was involved with David Thurston in a project with the BN Islander. [...]

As far as the airplane is concerned, the fuselage and wings are in excellent condition. There is major damage to the tail assembly. I have the engine and prop away for investigation/repair, but have new spares ie; engine pylon, windscreen, forward moulding for fuselage top, various new skins and ribs. All damaged parts are available to copy, but I would like to know if an elevator, tip mouldings [and] engine streamline wire stays are around from the original production run. [...] Any [other] leads would be appreciated.

Being based in the U.K. the only private waters available are a limited number in Scotland, and others in Eire, so making use of the Teal on water is not a strong option for me. However, I hope to get the machine back in the air eventually. Personally, I learned to fly in 1969 on Rollason Condors, and have flown purely for pleasure since then. Aircraft owned to date are Auster 6A. Piper PA 12. Cessna FR172F Rocket. Various Jodels. PA-22 Tripacer. Maule M5. I currently share a Maule MX7 and a Vans RV6 with a friend.

A visit to Florida to another Friend who has a Cub on floats made me purchase the Teal.

Regards;

Rodney Heaton; Oxenhope, Keighley, Yorkshire, England.

If you can help Rodney, please contact him!