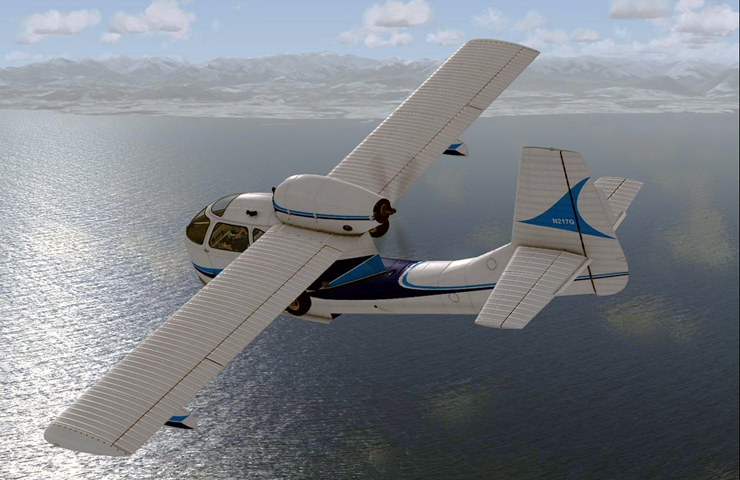 KCFS Virtual Seabee!
Kevin Miller

William P. Shaver

[2012-09-15] Sadly it is reported that Mr. William P. Shaver was killed when his Seabee N6072K (#252) crashed into Weiss Lake, Cedar Bluff, Alabama, on 15 September 2012. Shaver was approaching Weiss Lake for a landing, when he hit some power lines crossing the lake. When the Seabee hit the power lines it was in the center of the cockpit (actually just below the bow cleat), instantly killing Mr. Shaver. The wings were pulled back and the Seabee fell into the lake. the Seabee sank in 5 to 10 feet of water. Mr. Shaver was visiting his friend Herb Sherwin, but was landing from a different direction than he normally did.

He was a man of faith who was devoted to his wife, Charlotte and children, Chris Shaver (Amie Beth) and Erin Molina (Mike) and many dear friends. He was a patriot and a pilot who had a passion for model trains and military history. His favorite place to be was working, playing and being the captain at the family lake house in Muscle Shoals, Ala. We remember and miss his servant heart. He was happiest when he could serve those who needed him which was quite often
He is survived by his wife and children; his sisters, Kathy Tanner (John) and Amy Polio (Jim); and seven grandchildren.

From preliminary NTSB Report # ERA12LA562:

On September 15, 2012, about 0950 central daylight time, a Republic RC-3 amphibious airplane, N6072K, collided with high tension power lines, during approach to Weiss Lake, Cedar Bluff, Alabama. The certificated private pilot was fatally injured. Visual meteorological conditions prevailed and no flight plan was filed for the personal flight conducted under the provisions of 14 Code of Federal Regulations Part 91, which departed from Guntersville Municipal Airport (8A1), Guntersville, Alabama.

According to one of the pilot's friends, the purpose of the flight was to visit a friend who lived on Weiss Lake and also owned the same model of amphibious airplane
According to witnesses, on arrival in the local area, the airplane was observed to turn in an easterly direction and pass over his friend's house at approximately 400 feet above ground level. The airplane then turned left until it had reversed direction and then began to descend. Moments later the airplane struck a set of unmarked high tension power lines located on the eastern edge of the lake. The airplane then pitched nose up, its forward motion appeared to stop, and it rolled to the right until it was inverted, then fell onto the surface of the lake, and sank.
A post accident examination of the wreckage by a Federal Aviation Administration (FAA) inspector revealed no evidence of any preimpact failure or malfunction of the airplane or engine.
According to FAA records, the pilot held a private pilot certificate with ratings for airplane single-engine land and airplane single-engine sea. His most recent FAA third-class medical certificate was issued on April 19, 2010. He reported 400 total hours of flight experience on that date.
The recorded weather at Isbell Field Airport (4A9), Fort Payne, Alabama, located 19 nautical miles northwest of the accident site at 0955, included: calm winds, visibility 10 miles, sky clear, temperature 23 degrees C, dew point 15 degrees C, and an altimeter setting of 30.21 inches of mercury.


Award winner!

[2012-08-11] Classic Workmanship Award Winner, at Arlington Fly-In 2012 (Arlington Municipal Airport (KAWO), Washington); was Republic Seabee N447ZK (s/n 517)! The refurbishment and engine conversion were made by Hill Aircraft Services Ltd., Prince George, British Columbia, during 2011/2012. She now looks better than new; with a new Transition Lycoming IO-540 (330 HP) engine conversion and a new MT propeller. Seabee guru Randy Komko (Transition Aircraft) is currently test flying the MT propeller on Transition's IO540-300HP / MT Propeller conversion for an engine/prop STC that hopefully will be available to Seabee owners in the near future.


N87521 down in WA

[2012-07-21] Snohomish, Washington, USA. Just after take off from Harvey Field Airport (S43), about 10 a.m. the aircraft lost engine power and the 78 year old pilot made an emergency landing off airport. The Seabee came down in a watery slough near the 9700 block of 111th Street SE just south of airport and ended up partly submerged in a local river. The pilot, John Harms, was rescued out of the wreck by local residents rushing to the crash site. Mr. Harms was conscious and was taken to hospital. He suffered head injuries. The Seabee is reported to be N87521, s/n 78.

From preliminary NTSB report:

On July 21, 2012, about 1030 Pacific daylight time, a Republic RC-3 airplane, N87521, collided with a tree shortly after takeoff from Harvey Field (S43) Snohomish, Washington. The airline transport pilot, the sole occupant of the airplane, was seriously injured. The airplane sustained substantial damage to both wings and the aft fuselage. The airplane was registered to the pilot, and operated under the provisions of 14 Code of Federal Regulations Part 91 as a personal flight. Visual meteorological conditions prevailed and no flight plan was filed for the local flight.

A pilot rated witness stated that he observed the airplane takeoff from runway 15. Shortly after takeoff the airplane collided with a tree and descended into the ground. The airplane came to rest in a creek about 3,000 feet beyond the departure end of the runway.

Updated 2012-08-09


Joseph W. Gigante

[2012-04-16] Joseph William Gigante, a resident of Westwood for over 60 years, died Monday, April 9, 2012 at his home. He was 95. Joseph was born December 2, 1916 in New York City, New York, the son of Italian immigrants John and Anna (Gambardella) Gigante. Joseph earned his bachelor's degree in aeronautical engineering from New York University. He founded STOL Aircraft Corporation in Norwood, Massachusetts. There he designed and produced the UC-1 Twin Bee amphibious aircraft shown in the picture above, until his retirement in 1992.

Joe was an avid runner and could often be found at the Westwood High School track. He was the husband of the late Marianne (Ghysels) Gigante and the brother of the late Mario, Victor, Alfred, and Aintonette "Tina" Gigante. Joseph is survived by his daughter, Nina C. Gigante of Venice, California; his two sons, Stephen J. Gigante of New York City, New York, and David E. Gigante of Lawrence, Kansas; his granddaughter, Eden Levin; and two brothers, George Gigante of Van Nuys, California, and John Gigante of Deerfield, Florida. Services and interment will be private.

Mr. Gigante is truly one of the nicest persons I have ever had the pleasure of talking with! A few years ago we talked on the phone about his fantastic UC-1 Twin Bee amphibian. I had a "fearful" respect for this legend before calling him, but he immediately made me feel like we had been friends all life! This is the first time I have seen a photo of Joe, and his charisma is evident! Every Twin Bee and Seabee fan will truly miss this great man. He will be remembered with appreciation. In deepest sympathy with all his family and friends;


Steinar Saevdal


Virtual Seabee for Flight Simulator X!

[2012-02-01] - KC FlightShop Introduces the Republic RC-3 Seabee an all-metal amphibious sports aircraft designed by Percival Spencer in 1944 and the RC-1 made its first flight with Spencer at the controls. By the end of 1944 Republic had received 1,972 civilian orders for the $3,500 airplane. The Navy granted Republic Aviation the rights to use the name Seabee for the civilian version. Today, more than 60 years after production ended, the Seabee is still the most popular amphibian on the used-market…

The KC FlightShop recreates the first production RC-3 Seabee with original equipment as released from the factory for a vintage flight experience, the fully interactive VC uses 3D gauges throughout with every system modeled.

Features include HD quality textures (2048 x 2048).

Authentic HQ digital stereo sounds.

Fully animated pilot

Kneeboard checklist with performance tables.

Realistic night lights effect in the virtual cockpit..

FSX features: external dynamic shadows, internal dynamic shadows on VC, volumetric normal mapping, specular mapping and bloom lights.

FPS. friendly model

Interactive virtual cockpit.

Full moving parts: Ailerons, elevators, rudders, flaps, rolling wheels and trim tab

Animated Doors

Lights: Panel Lights, Navigation lights, landing and cabin lights.

Fully normal mapped interior.

Compatible with Addon Hardware and Shared Cockpit Functions

Easy to use paint kit

Realistic behavior, pilot tested to match the real airplane

Help from many pilot and owners of real Seabee's for accuracy and authenticity

.

Visit the KC FlightShop:

for a look at this new release!