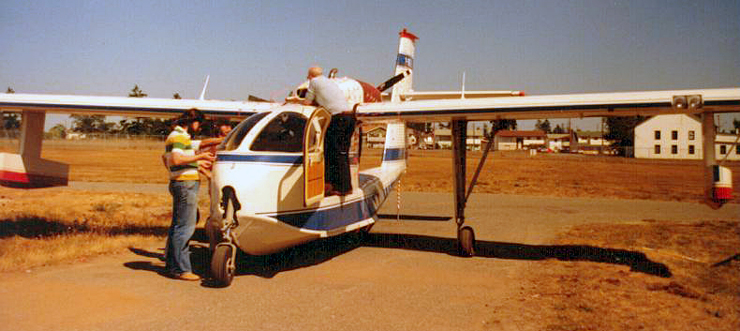 Photo: © Randy Komko

Jeff Dean

One of the fundamental design engineers from the Dentís, Dave Hazelwood, John Galizia and forward.


Robert Dent

Robert Dent was one of the three original shareholders (hence the name Trident). He was from Washington state, and a long time Seabee owner.


John C. Galizia

Chief engineer. A great leader and teacher. He left the firm in 1979, and worked at de Havilland Canada until he retired about 1990.


David Hazlewood

David Hazelwood was another of the original three shareholders, and CEO of the company most of the time. He was from Vancouver, BC, and also a long time Seabee owner. He and Robert Dent met through a Seabee owners club.


Paul A. Hartman

Paul Hartmann was an ex-RCAF test pilot, and flew CF-TRI on its very first flight. He was a contract employee, and was no longer involved with the firm when I arrived in 1976. Paul was also the pilot on the first flight of many small Canadian aircraft projects in the 1970s, including the first Turbo Otter conversions.


Charles 'Chuck' Y. Herbst

Chuck Herbst was the first chief engineer of the firm. He left Trident in 1976 (?), and was replaced by John Galizia.


Ken Horton

Ken was the chief composite engineer, and was almost single handedly responsible for all the composite parts. He designed them, built the tools, and then built the parts. Ken briefly became Chief Engineer at Trident, after John Galizia left for de Havilland in 1980. Ken returned to his native Australia and was making a nice living making wind surfers in his garage.


Randy Komko

During the late 1970s Seabee expert Randy Komko was involved in solving the Trigull engine cooling problems together with Seabee modifications engineer Jack Daubenspeck. Randy currently runs Transition Aircraft in Washington, USA, a company rebuilding and modifying Republic Seabees.


C. S. Newton

C. S. Newton was another of the original three shareholders. Also a long time Seabee owner. He and Dave Hazlewood met through a Seabee owners club.


Jim Newton


Norman M. Ronaason

Norm Ronaason became the chief test pilot after Paul Hartmann. Norm left Trident to become a pilot on the Canadair Challenger program in 1977 or 1978, and was killed in the crash of the first Challenger on 3 April 1980. The Canadian Aeronautical and Space Institute named the Ronaason Award after him, this is given every year to the author of the best paper presented at the CASI annual flight test symposium.


Percival H. Spencer


Clay Vilas

Originally Clay Vilas was the Trident US dealer. He was an ex-USAAF pilot, who had flown C-46s on the Hump, between India and China. After the war he made a small fortune selling Toyotas in California. He became a major shareholder, and eventually CEO of the company, by 1980. He passed away in about 2000.


Robert W. Walker

Worked for Trident from 1976 to 1980 as a flight test engineer.


Jerry Westpahl

An ex-RCAF test pilot who replaced Norm Ronaason in about 1977. He left Trident in 1980, and became a sales and demonstrator pilot for the Canadair Challenger program.