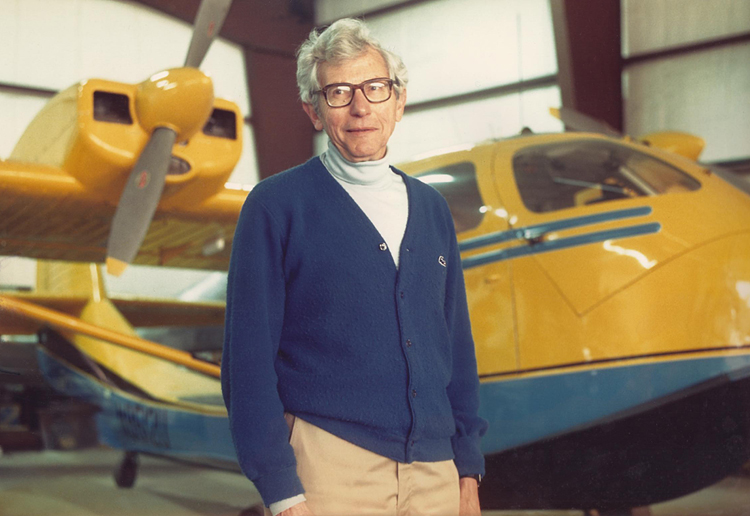 Joseph W. Gigante
1916 - 2012

N747HJ (#024) Crashed

[2022-07-19] Sadly, news reports confirm that Twin Bee #024, N747HJ, crashed in Sweden yesterday - July 18, 2022. The Twin Bee was flying water landing training on Lake Siljan, Dalarna, when for unknown reasons the aircraft crashed and sank. The Twin Bee had two German nationals on board. One person was taken to hospital, but perished shortly after. The second person is still missing at this date.

N747HJ is owned by Mr. Henner Jud, who had #024 restored only a few years ago. The Twin Bee is normally based at Siegerland Airport (SGE/EDGS), Germany, and arrived Siljan Air Park (ESVS) in Sweden on July 10, where Mr. Jud has spent his vacations for several years.

[2022-07-24] UPDATE

German news reports indicate the Twin Bee N747HJ had been borrowed from owner by the young commercial pilot Luca Born and his seaplane instructor for instruction flights at Lake Siljan. The body of the second person was recovered on Wednesday, 22 July.

22-year old Luca was an avid pilot and aviation enthusiast from Hessen, Germany, who had traveled to Sweden to explore his passion for seaplanes. The identity of the instructor has not been made public.



N25BY (#022) Restoration

[2021-01-16] Mark Byrd reports that #022 has been restored. She looks great!

Mark spent 2½ years getting a total aircraft overhaul; engines, propellers, paint, interior, all new cables, new landing gear, new electrical system, removed vacuum system, new windows, new avionics and flight instruments,2 JPI Engine Monitors, etc. New fuel system with 10+ hours of fuel.

N25BY is based at Winter Haven (KGIF), Florida. Nose art, "FatCat", is from his dad's FatCat B-25 in WWII.



N65NE (#023) fatal crash

[2019-02-26] Sadly, The Twin Bee Website have received several messages informing that Twin Bee (#23), N65NE, crashed in Florida, USA, on Saturday, February 23, 2019.

Awaiting first official NTSB Accident Synopsis, news media report that the Twin Bee took off from Winter Haven's Gilbert Airport (KGIF), Polk County, Florida, for a training flight. At 12:45 PM, shortly after take off, the aircraft apparently lost engine power and crashed into the roof of a house on 2735 Idylridge Drive, just south of airport. Photos suggest that the aircraft made an almost vertical impact into the house.

Flight instructor James Wagner (64) was killed. Student pilot Timothy Sheehy (33), from Montana, survived with minor injuries. A young resident of the house, Carmelle Ngalamulume (17), also suffered minor injuries.

More information will be published when NTSB Preliminary Report is available.

NTSB Identification: ERA19FA106

On February 23, 2019, about 1243 eastern standard time, a STOL Aircraft Corp UC-1 amphibious airplane, N65NE, impacted a residence shortly after takeoff from Winter Haven Regional Airport (GIF), Winter Haven, Florida. The flight instructor was fatally injured, the commercial pilot receiving instruction sustained minor injuries, and there was one serious ground injury. The airplane was owned by ESP Aviation LLC and privately operated under the provisions of 14 Code of Federal Regulations Part 91. Visual meteorological conditions prevailed, and no flight plan was filed for the local instructional flight which departed at 1239.

According to the commercial pilot receiving instruction (the pilot), he and a colleague were receiving initial airplane multiengine sea training from the flight instructor in the accident airplane. The accident flight was the third flight of the day.

According to the pilot, the instructor advised him before takeoff that he would introduce a simulated engine failure at some point during takeoff or climbout. Shortly after takeoff from runway 23, about 200-300 ft above ground level (AGL), the instructor reduced the throttle on the left engine and the left engine stopped producing power, and the propeller feathered. They identified the failed engine, the instructor took over the flight controls, and selected a forced landing site.

During the descent, the flight crew's engine restart procedures were unsuccessful and they determined that the airplane would not reach the selected forced landing site. The instructor then chose a lake to the airplane's left as an alternate site. During the left descending turn, the airplane slowed, the left wing dropped, and the airplane impacted a house, seriously injuring one of its occupants.

A witness in a fuel truck at GIF stated she watched the airplane fly overhead. She saw both propellers rotating and watched as the left propeller stopped rotating. The witness said she then watched as the airplane "sank" in a descending left turn until it disappeared from view.

The pilot held a commercial pilot certificate with ratings for airplane single engine land, airplane single-engine sea, and instrument airplane He held a flight instructor certificate with a rating for airplane single-engine. His most recent FAA second-class medical certificate was issued October 24, 2017. He reported 820 total hours of flight experience on that date.

The flight instructor held an airline transport pilot certificate with ratings for airplane single- and multiengine land, and single- and multiengine sea. He held a flight instructor certificate with ratings for airplane single- and multiengine. His most recent FAA first-class medical certificate was issued January 25, 2019. He reported 15,000 total hours of flight experience on that date.

The five-seat, twin-engine, high-wing, amphibious airplane was manufactured in 1986. It was powered by two Lycoming IO-360, 180-horsepower engines, equipped with Hartzell two-blade, constant-speed propellers. A review of the airplane maintenance records revealed that a 100-hr inspection was completed on February 23, 2019.

Examination of the accident site revealed that the airplane came to rest inside the house and rested in a near vertical, nose-down attitude. All major components were accounted for at the scene. The cockpit area was destroyed and crushed inward. The top of the fuselage between the engines was crushed inward. The fuselage beyond the fifth seat was intact and undamaged. The throttle quadrant, which ran along the top of the cockpit, was separated during the impact sequence. The wings remained attached and were removed for recovery. After recovery of the airplane, control continuity was traced from the cockpit, through several cable breaks to all flight control surfaces.

The right-wing leading edge inboard of the engine was crushed inward. The front and inboard side of the cowling was crushed. The right-engine propeller blades displayed chordwise scratching and tip curling. The wing outboard of the engine was undamaged. The left-wing leading edge inbound of the engine was crushed. The left propeller blades were feathered and undamaged. There was damage to the outboard portion of the wing, which included wrinkled skin, and upward folding of the wing and skin. The wingtip was crushed inward.

The left and right engine crankshafts were rotated by hand at the propeller hub, and continuity was confirmed through the powertrain to the valve train and accessory section. Compression was confirmed on all cylinders of both engines using the thumb method. All of the ignition harness leads were intact and undamaged. The right engine's magnetos were manually rotated and produced spark at all terminal leads.

A test run of the left engine mounted on the left wing was attempted. An external battery and engine controls were connected, and an external fuel tank was plumbed directly to the fuel pump inlet. The engine started immediately, accelerated smoothly, and ran continuously at all selected power settings without interruption.

No evidence of preimpact mechanical malfunction was noted during the examination of the recovered airframe and engines.

At 1153, the weather conditions reported at GIF included, wind from 170° at 12 knots, gusts to 17 knots, visibility 10 statute miles, few clouds at 3,400 ft, temperature 29° C, dew point 20° C, and an altimeter setting of 30.15 inches of mercury.


N950TB (#020) down

[2014-10-25] On October 25, 2014 Twin Bee N950TB (#020) was severely damaged, when the pilot made an emergency landing on a field near County Road 1314 near Farm to Market 768, about four miles east of Cherokee County Airport (KJSO), Jacksonville, Texas, after engine trouble on r/h engine.

According to a DPS report, Mark Haag, 68, of Richmond was flying the aircraft from Reklaw to the Cherokee County airport when he had to make an emergency landing in a pasture just west of FM 768.

Two of his passengers, Susan Inkley, 77, of Richmond and Bruce Finch, 84, of Houston, were injured. Inkley was airlifted to a Tyler hospital and is listed in good condition and Finch was taken to a Jacksonville hospital.

Haag and another passenger, Lisa Haag, 44, of Richmond, were not injured.



Joseph W. Gigante

[2012-04-16] Joseph William Gigante, a resident of Westwood for over 60 years, died Monday, April 9, 2012 at his home. He was 95. Joseph was born December 2, 1916 in New York City, New York, the son of Italian immigrants John and Anna (Gambardella) Gigante. Joseph earned his bachelor's degree in aeronautical engineering from New York University. He founded STOL Aircraft Corporation in Norwood, Massachusetts. There he designed and produced the UC-1 Twin Bee amphibious aircraft shown in the picture above, until his retirement in 1992.

Joe was an avid runner and could often be found at the Westwood High School track. He was the husband of the late Marianne (Ghysels) Gigante and the brother of the late Mario, Victor, Alfred, and Aintonette "Tina" Gigante. Joseph is survived by his daughter, Nina C. Gigante of Venice, California; his two sons, Stephen J. Gigante of New York City, New York, and David E. Gigante of Lawrence, Kansas; his granddaughter, Eden Levin; and two brothers, George Gigante of Van Nuys, California, and John Gigante of Deerfield, Florida. Services and interment will be private.

Mr. Gigante is truly one of the nicest persons I have ever had the pleasure of talking with! A few years ago we talked on the phone about his fantastic UC-1 Twin Bee amphibian. I had a "fearful" respect for this legend before calling him, but he immediately made me feel like we had been friends all life! This is the first time I have seen a photo of Joe, and his charisma is evident! Every Twin Bee and Seabee fan will truly miss this great man. He will be remembered with appreciation. In deepest sympathy with all his family and friends;


Steinar Saevdal


MES Rating on Twin Bee!

[2011-01-21] Eric Weaver has sent some quite amazing photos of N65NE (#23) in Florida! N65NE is earning her keep at ESP Aviation, where she is used for MES (Multi Engine Sea) rating new seaplane pilots. They are located in Tavares, Florida, and offer professional instruction, ground school on site, in-flight training on N65NE, Commercial and Airline Transport Pilot (ATP) - and of course great Florida weather!

For more information, and your free "Twin Seabee Study Guide" and free "Twin Bee Flight Manual" please visit:

Thanks Eric for the amazing photos! Please visit Photos section!


N9507U in Arizona

[2010-12-25] Ken Slough kindly sent a few photos of Joe LaPlaca's Twin Bee N9705U in Arizona! These are the first photos your webmaster has seen of # 017! Ken is the chief pilot of Island Airways in Charlevoix, Michigan. He recently had the privilege of flying LaPlaca's Twin Bee - I took an ATP ride in it and its a great flying airplane!

Thanks Ken for your report and the great photos!


UC-1 Twin Bee Amphibian Design Rights for Sale!

[2006-09-20] Designer, builder and owner of the UC-1 Twin Bee, Joseph Gigante, president of the STOL Aircraft Corp., is announcing that he is selling the FAA Type Certificate No. A6EA, all design and production rights, documentation, tooling, jigs, molds and parts for the unique UC-1 Twin Bee amphibian aircraft.

The UC-1 Twin Bee, designed by Mr. Gigante in the early 1960s, is a twin engine version of the Republic RC-3 Seabee, remanufactured from components from the single engine amphibian. First flight was made in 1960 and on June 25, 1965, FAA Type Certificate No. A6EA was awarded. A total of 23 Twin Bees have been built to this date, the last one in 1987.

The Twin Bee exhibits exceptional short take-off and landing capabilities and has proved to be the perfect personal yacht as well as one of the most popular aircraft for multiengine seaplane ratings with flight schools in the USA. Twin Bees are also flying in Switzerland and in the Philippines.

This is a unique opportunity to get an already FAA Type Certificated twin engine amphibian, without spending millions to obtain design and approval. In addition, Mr. Gigante is prepared to assist the new owner of the Twin Bee to achieve production capability.

Mr. Gigante will consider any reasonable offer from any party seriously interested making the Twin Bee available for the market again.

For more details, please contact Mr. Joseph Gigante at e-mail:



Serious inquiries only, please!


Peter Annis

[2006-03-13] Peter Annis, who was a test pilot for the UC-1 Twin Bees, kindly has sent a lot of new information for the UC-1 Twin Bee Production List! Peter made the first flight for all but one of the 23 Twin Bees built! He also made the last flight for several of RC-3 Seabees that were converted/remanufactured to UC-1 Twin Bees. Hopefully, Peter will tell more about the Twin Bee history and his experiences later...


Ownership Changes

[2005-05-25] On 01 February 2005 Twin Bee N65NE (s/n 023) was registered on FAA Registry to E S P Aviation LLC, Wilmington, Delaware, USA. N65NE was previously owned by Mr. Hardy F. LeBel who sadly was killed in an airplane midair collision on 16 November 2003.

Mr. Daniel Staton of Corvallis, Oregon, informs that he is the new owner of Twin Bee N950TB (s/n 020). N950TB is under restoration, but has already made her first post-restoration flights. This week # 020 will be flown to Oklahoma, where she will get new paint, glass and interior. This final work is scheduled to be finished late July. Daniel will send photos later.


Twin Bee on eBay!

[2004-12-03] STOL UC-1 Twin Bee N65NE (s/n 23) is currently listed for sale at eBay auctions!

Built in 1986, N65NE was the second to last Twin Bee made. According to the eBay Auction description, she is in perfect condition with a fresh annual of April 2004. TT 940 hours. The eBay auction ends on 5 December. The Twin Bee auction has a "Buy it Now" price of $ 175,000.

N65NE was previously owned by Mr. Hardy F. LeBel who sadly was killed in an airplane midair collision on 16 November 2003.


Twin Bees s/n 016 and s/n 020

[2004-04-26] Command Aircraft Inc. of Bunnell, Florida, have acquired two UC-1 Twin Bee amphibians; N950CB (s/n 016) and C-FLCL (s/n 020).

N950CB was acquired from an estate sale in New Hampshire and was this April disassembled and moved to Florida. N950CB is currently for sale! Please go to Seabee Classified section for more details! N950CB will need assembly, a new annual and replacement of fuel bladder, tires, brakes etc. as it has not flown since 1991.

Last listed owner of N950CB was Mr. Thomas F. Twomey; Chocorva, New Hampshire. Last listed owner of C-FLCL was Mr. Johann Olaf Baumgartner; Salt Spring Island, British Columbia, Canada.


Twin Bee RP-C2743 Flying!

[2004-02-06] It is with great joy Mr. Elpie Paras reports that his beautiful STOL UC-1 Twin Bee, RP-C27043 (s/n 015), successfully made her first test flight in The Phillippines on 03 February 2004!

The test pilot was Capt. Leo D. Yosalina, who is one of very few amphibian rated CAA test pilots in The Philippines. Capt. Yosalina reported no problems. Congratulations Elpie!

The test flight was made from Cagayan de Oro Airport - Lumbia, CDO. Cagayan de Oro City has a population of more than 430 K, and is located along the central coast of Northern Mindanao.

The city serves as the center of the Philippines' administrative Region X, which includes the provinces of Camiguin, Bukidnon, Misamis Oriental and Misamis Occidental.

RP-C2730 is ex N9506U, and was purchased by Elpie on a government auction in 2000. More photos.


Philippine Photos

[2003-11-24] Mr. Elpie Paras has kindly sent several photos of his beautiful Twin Bee (s/n 015) in The Philippines. That paint scheme looks great!! Thank you Elpie!!

As can be seen from the photos, the Philippine registration marks 'RP-C2743' have not been painted on the aircraft yet. Some documents with Philippine authority (ATO) have to completed first. The Twin Bee is also awaiting her first test flight for certification. The only qualified Filipino CAA test pilot is in the US for the time being. RP-C2743 is ex American N9506U.


Hardy F. LeBel

[2003-11-19] It is sadly reported that Mr. Hardy Franklin LeBel (65) was killed on Sunday, 16 November 2003, in a mid-air collision between the Cessna 180 he was aboard and a Piper PA-28-181. The tragic accident happened at Westerly State Airport, Rhode Island. The other occupant of the Cessna 180 landplane, Mr. Peter Budd Coleman (58), was also killed. The three persons aboard the Piper PA-28 escaped without injuries. More details can be found at The Westerly Sun Newspaper web-site. The accident is under investigation by the local police and the NTSB.

Mr. LeBel was the owner of UC-1 Twin Bee N65NE, which he purchased from Mr. Jay Merten early in 2002. He was a long time commercial pilot/instructor and he was the Chief Pilot of New England Air.

LeBel was an avid seaplane pilot, flying his Cessna 180 on amphibian floats and his new Twin Bee. LeBel was the Long Island Field Director of SPA (Seaplane Pilots Association).

Updated 2003-11-24: From the NTSB Preliminary Accident Report, some more details on the accidents;

On November 16, 2003, at 1330 eastern standard time, a Cessna 180, N34AG, was substantially damaged when it impacted terrain, after colliding in-flight with a Piper PA-28-181, N2885D. The Piper received minor damage during a hard landing after the collision. The collision occurred while the Cessna was taking off, and the Piper was landing, at the Westerly Airport, Westerly, Rhode Island. Both certificated flight instructors aboard the Cessna were fatally injured, while the certificated private pilot and two passengers aboard the Piper were not injured. Visual meteorological conditions prevailed, and no flight plan was filed for either airplane. The Cessna was a local instructional flight conducted under 14 CFR Part 91, while the Piper was a personal flight conducted under 14 CFR Part 91, which originated from the Windham Airport, Windham, Connecticut.

The complete Preliminary Accident Synopsis can be found at the NTSB web-site. NTSB Identification: NYC04FA033A .


Twin Bee Photos

[2003-09-30] A Twin Bee owner sent a number of photos of beautiful Twin Bee N123BR (s/n 012).

According to the US CAR, N123BR is currently owned by American Aircraft Sales LLC; Wonewoc, Wisconsin, USA. However, it seems that N123BR is operated by the company Flight Technologies, Inc.

For more Twin Bee photos, please visit the Twin Bee Photos section!


Twin Bee in The Philippines

[2003-09-30] Twin Bee s/n 015 (ex N9506U) was acquried by Mr. Elpidio M. Paras, Cagayan de Oro City, The Philippines, on a government auction in 2000. After a three-year rebuild, #015 has now been registered as "RP-C2743" on The Philippine CAR. The Philippine registration marks have not been applied to the aircraft yet. More photos...