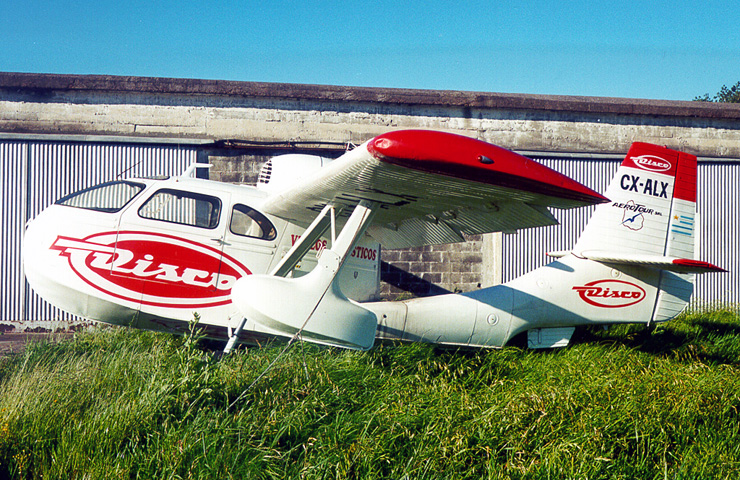 CX-ALX (s/n 534)
Photo: © Gary Kuhn
The Uruguayan Seabees were imported to Uruguay by the company Horacio Torrendell S.A., of Montevideo, the Republic Seabee distributor for Uruguay. This company first started as a car importer, then started building its own cars. But it was quite an "adventurous" company, so it also imported some aircraft. Very little is known about the Uruguayan Seabees. Probably only CX-ALX is still in operation. The others seem to be cancelled from Uruguayan Registers, which would mean that they are crashed, have been scrapped, have been stored, or simply exported to other countries...
Mr. Alan Pereira Pierce reports from Uruguay;
"I was able to see CX-ALX one rainy afternoon in Adami Regional Airport (SUAA) in Montevideo, Uruguay, the city where I live in (the airport from which I start my flights, as the plane is there), as I walked down the hangars to meet a mechanic, I found this hangar open, and... there it was, it was on a cradle, being repaired, gear up, engine cowl off.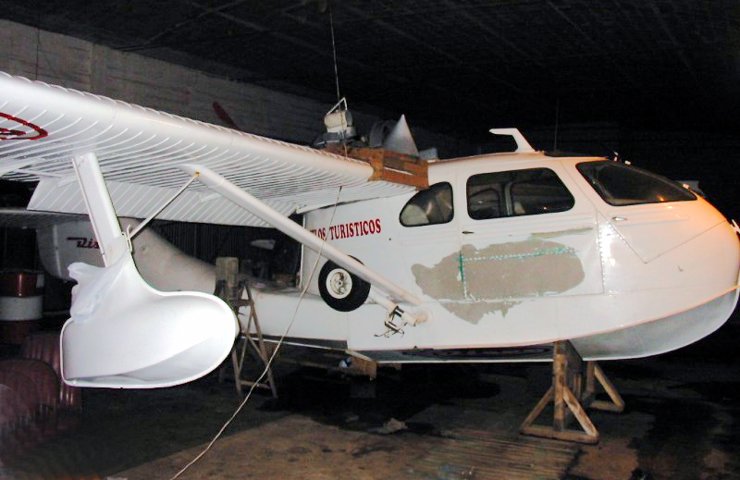 CX-ALX under restoration.
Adami Regional Airport, Montevideo 2003
Photo: © Alan Pereira Pierce
It was being repaired, I had a chat with the owner, he told me it was getting really difficult to keep up with it's maintenance (not much money). To keep it flying the owner was using it for promotional purposes, painting the promotions on the sides, and flying along Uruguay's beautiful coast, during the summer season, when everyone goes to the beaches. The last sponsor was Disco, a chain of supermarkets (which is the sponsor you see on the picture).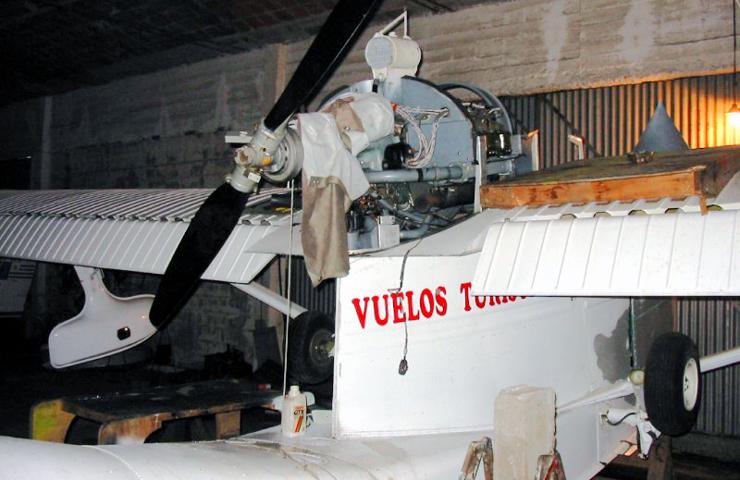 CX-ALX under restoration.
Adami Regional Airport, Montevideo 2003
Photo: © Alan Pereira Pierce
As I'm making a model of this plane I will have to visit this hangar again sometime, get in "serious" contact with the owner, etc. I hope I can! The model I'm making, although I'm a scale modeller too, and a student pilot, is a computer model, to use with the Flight Simulator 2002. Perhaps you may have photo material, technical data about the Seabee that I could find useful! I've been able to use all the technical specifications provided in your site (thanks for that!), perhaps you have photos of details on the plane (water rudder, interior, panel, control yoke) that you could send to me when I need them?"
____
Thank you very much, Alan, for your great information and photos! If anyone can help Alan, please contact him at above e-mail, or contact the web-master Steinar Saevdal below.

If you - visitor to these web-pages - have any information on the Uruguayan Seabees and their use, please e-mail me (Steinar Saevdal)!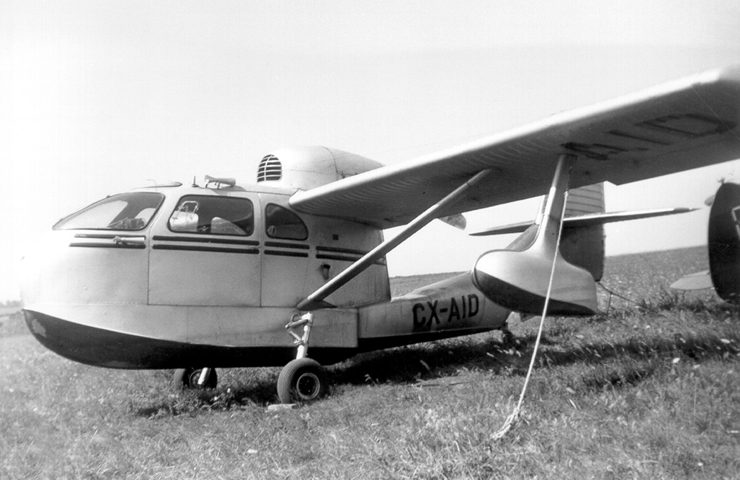 CX-AID (s/n 410)
Photo: © Nery Mendiburu via Gary Guhn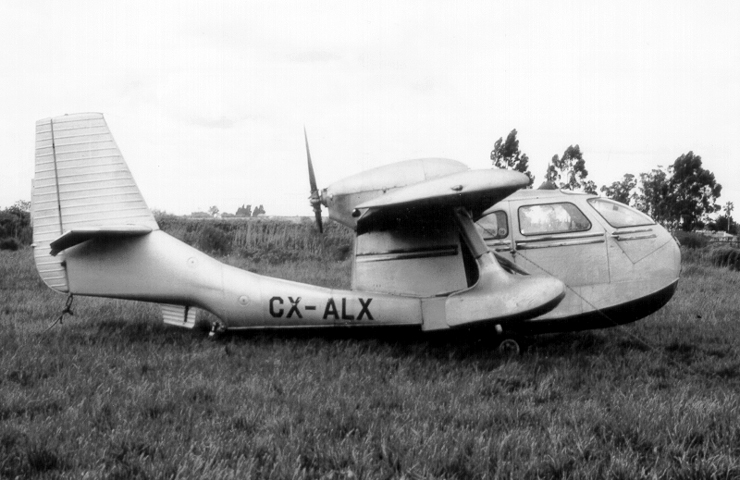 CX-ALX (s/n 534)
Photo: © Nery Mendiburu via Gary Kuhn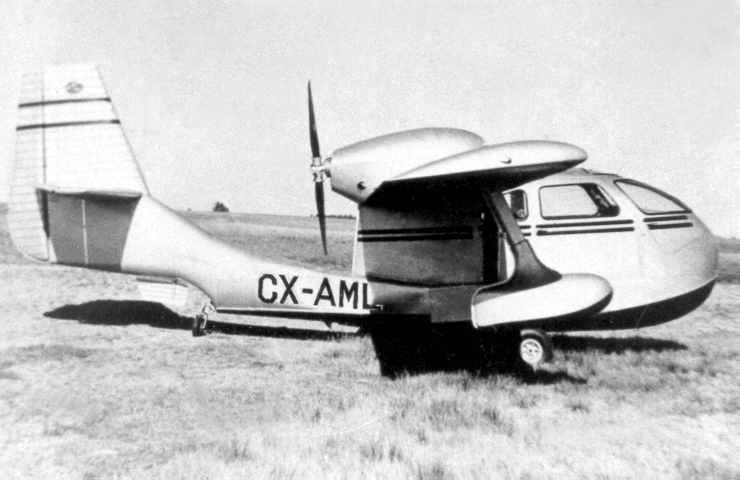 CX-AML (s/n 535)
Photo: © Nery Mendiburu via Gary Kuhn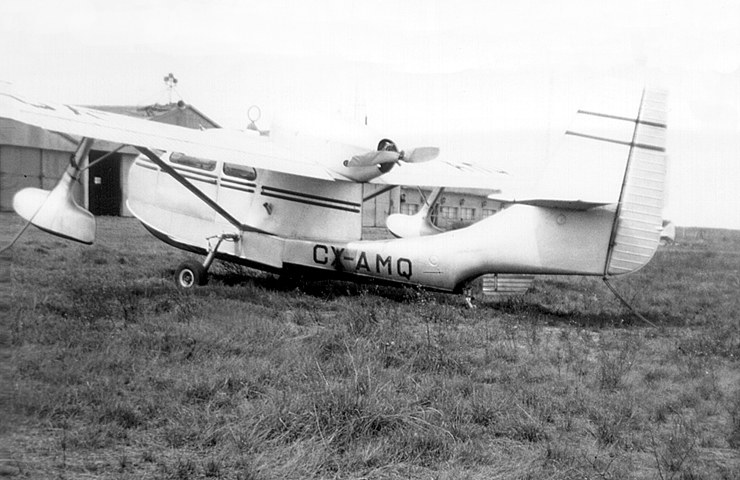 CX-AMQ (s/n 676)
Photo: © Nery Mendiburu via Gary Kuhn
Thank you very much Mr. Hélio Higuchi, Mr. Gary Kuhn and Mr. Alan Pereira Pierce for your kind help! Please visit Gary's Latin American Aviation Historical Society (LAAHS) web site at; www.laahs.com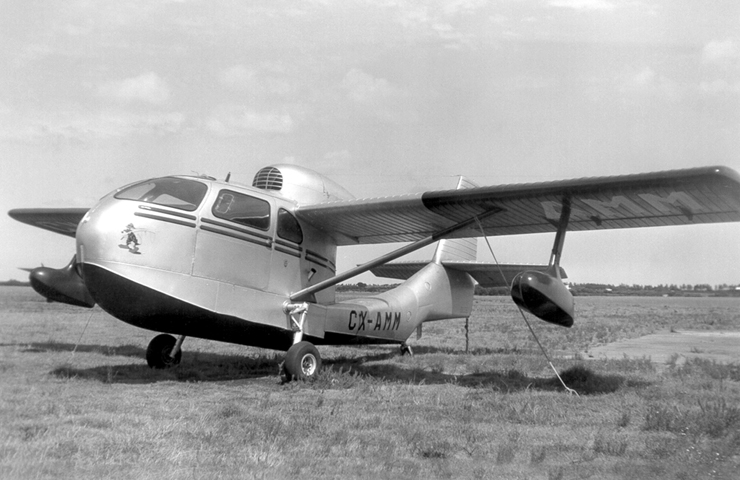 CX-AMM (s/n 675)
Photo: © Nery Mendiburu via Gary Kuhn
| | | | | | |
| --- | --- | --- | --- | --- | --- |
| S | Photo | Reg. Mk: | S/N: | Reg. Years: | Remarks: |
| U | | CX-AGS | 117 | 1946-11 | Cancelled. |
| C | | CX-AID | 410 | 1947-02 | Cancelled. Suffered an accident in 1954 in Sao Paulo, Brazil. Used for spare parts by Cukars. |
| R | | CX-ALX | 534 | 1947-03 | Under restoration by owner. |
| U | | CX-AML | 535 | 1947-03 | Cancelled. |
| U | | CX-AMM | 675 | 1947-04 | Cancelled. |
| U | | CX-AMQ | 676 | 1947-04 | Cancelled. |
| | |
| --- | --- |
| | Crashed (C) / Scrapped/Destroyed (D) |
| | Confirmed flying (F) |
| | Unknown (U)/ Restoration (R) / Stored (S) / Exported (E) |