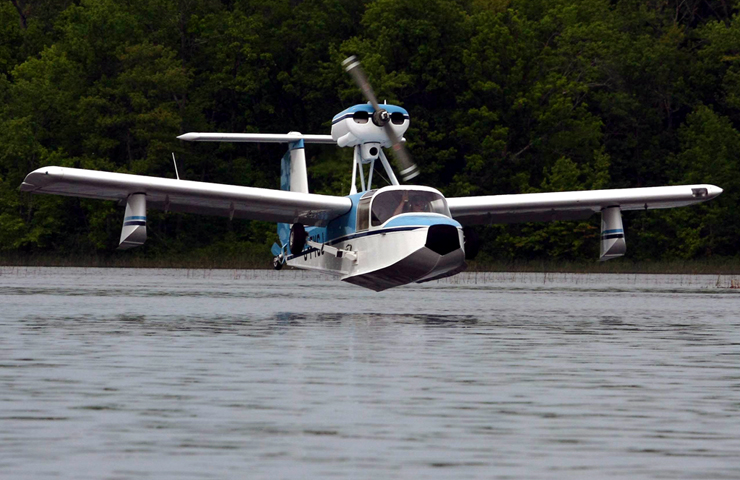 Photo: © Jim Watson
N897TB: 1971 TEAL # 15 - SOLD!
_

Owned by Floridair Inc since 2003 and kept undercover at Eagles Nest Florida (FD44) which has both 3,000'ft + of grass and water available.

Awarded Champion Seaplane at the 2012 Sun n Fun, Lakeland, Florida.

There are no AD's on this airframe which is rugged and well built.

Registered in the FAA NORMAL CATEGORY. The annual will be renewed in Feb 2020.

Modified to the Extended Wing version in 1992 which also the year it flew from Brentford in Canada to Huddersfield in England in 8 sectors and 42 hours. (2 of them over 10 hrs)

This version has three fuel tanks. One at 23 US Gal in each wing and a fuselage tank of 24.5 US Gal, giving a total of 70.5 US Gal.

It's equipped with an AT150 Transponder, DC Intercom and Narco 810 COM.

Model:
Thurston TSC-1A/1A1 Teal
S/N:
15 (1971)
Engine:
Lycoming O-320-A3B
150 hp @ 2700 RPM
TTSN: 1,273 hours
Propeller:
Hartzell HC-C2YL-BF
Constant Speed
Seats:
2+1 (2 side by side, 1 rear)
A/C TTSN:
1,273 hours
Location:
Eagles Nest, Florida, USA
Price:
SOLD!
Contact:

Tom Beck, President of Floridair. Inc
Tel: -
Mobile: -
E-mail: -
2020-02-09/UPDATED 2022-02-01
C-FLAK: 1977 TEAL # 037 - SOLD!
_

Jim Watson of Brechin, Ontario, Canada, is selling Teal #037, C-FLAK. This is the second last Teal built. Jim restored #037 two years ago, so this Teal is almost like new!

Please visit Jim's website:

https://thurstontealforsale.com

Specifications:

Cruise Speed: 95 MPH
Range: 450 miles
Gross Weight: 2200 pounds
Useful load: approx. 650 pounds
Fuel capacity: 46 US gallons.
Avionics: Narco Com 120 – Serviceable, Sigtronics intercom.
Lots of space for new avionics

2016 Restoration included:

Repair of airframe damage, major rewiring, redo instrument panel, new leather seats, headliner and floor material: Interior 9.5/10, New paint. Exterior 10/10

As of October 26, 2018:

Model:
Washac/Teal TSC-1A2 Teal II
S/N:
037 (1977)
Engine:
Lycoming O-320-A3B
150 hp @ 2700 RPM
TTSN: 756.7
Propeller:
Hartzell HC-C2YL-1BF
Constant Speed
TTSN: 756.7
Seats:
2+1 (2 side by side, 1 rear)
A/C TTSN:
756.7
TTSOH (2012): 14.5
Location:
Brechin, Ontario, Canada
Price:
SOLD!
Contact:

Jim Watson at:

E-mail: watson@orilliapronet.com

Tel: (705) 484-5315
2018-11-20
1977 TAC TSC-1A2 TEAL II AMPHIBIAN - SOLD!
_

This is a unique opportunity! 1977 Teal TSC-1A2 Teal II amphibian, N334AZ, S/N 033 of 38 made. 160 TSN/160HP. No damage history. IMC, P&E overhaul. Some new parts. Floor jacks.

Disassembled, stripped & stored Phoenix, Arizona. This is probably the lowest-time Teal project in existence! Modifications available.
Model:
Washac/Teal TSC-1A2 Teal II
S/N:
033 (1977)
Engine:
Lycoming O-320-B1B
160 hp @ 2700 RPM (originally 150 hp).
Propeller:
Hartzell HC-C2YL-1B/7663-3
Constant Speed
Seats:
2+1 (2 side by side, 1 rear)
A/C TTSN:
160 hrs
Location:
Phoenix, Arizona, USA
Price:
SOLD!
Contact:
Kerry R. Gorman
Phoenix, Arizona
USA

Tel: 602-231-0350
E-mail: teal42@earthlink.net
2018-11-20
TWO "TEAL" PROJECTS AND PARTS - SOLD!
_

Greene County Government has for sale the contents of a hangar rented at one time by a former Teal owner, at the Greene County Airport (KWAY) in Waynesburg, PA . The County now has control of the items and wants to sell them.

A group of local aviators is assisting the county in the sale. They will try to help with any aviation related questions regarding the items, and they are not receiving any fees. If anyone wants to make an offer, you will be put in contact directly with the county government.

Items for sale include:

Thurston TSC-1A Teal Amphibian Aircraft Serial # 13
-no wings, engine, gear or propeller installed.
Schweizer TSC-1A3 Teal Amphibian Aircraft Serial # 22 (Experimental)
-on its gear and has the engine and propeller installed.
1 Lycoming 0-320-A3B engine on engine stand.
1 box of aircraft wiring.
1 box of sheet metal parts.
1 box of brake calipers.
1 box with Alternator.
1 box with Tail Wheel and various sheet metal stringers.
1 box of floor boards, covers, ribs, antennas, Sheet Metal stringers and Moldings.
1 box with propeller governor.
1 box with 20 stringers and moldings.
1 box with oil cooler with baffle.
1 box of ADF and radio antennas.
2 sheets of about 3x5 pieces of sheet metal.
1 box of spars.
1 box of ribs & strainers.
1 1981 Mercedes Benz diesel station wagon with 285,000 miles on it.
1 3 blade constant speed propeller.

One engine appears to be 0-timed by Penn Yan Aero, and likewise one prop by MT Propeller. The other engine and propeller are mounted on aircraft # 22. We can put some quality pictures on our clubs Google drive site or answer questions from any serious buyers. Everything has been in a hangar since it's arrival at the airport some years ago.

Serious inquiries contact:
Vince Palone
e-mail: kolbmkii@yahoo.com

SOLD!
2015-04-15
SCHWEIZER TSC-1A1 TEAL AMPHIBIAN - SOLD!
_

Due to his age (79), the owner reluctantly is selling his unique Teal amphibian. This is a rare opportunity to buy a 2-seat production amphibian that is FAA Type Approved (TC # A15EA)! One of a total of 38 built, s/n 23 was built by Schweizer Aircraft Corporation, Elmira, NY, USA, in 1973. After a few years in the UK as G-BAVK, this Teal has been operated in Norway since 1977 with registration LN-SAU. This is the perfect private "Flying Jeep" for flying to you seaside cabin, for your business trips or just for fun! Parts are easily available through Type Certificate holder Seastar Corp. and their representative Lake Central Air Services, Ontario, Canada.
Model:
Schweizer TSC-1A1 Teal
S/N:
23 (1973)
Engine:
Lycoming O-320-A3B 150 hp @ 2700 RPM
Propeller:
Hartzell HC-C2YL-1B/7663-3 C/S
Constant Speed
Seats:
2 (side by side)
A/C TTSN:
605 hrs
Location:
Radøy outside Bergen, Norway
Price:
SOLD!
Contact:
Odd William Bjørnstad
Joh. Berentsensvei 71
NO-5163 Laksevåg
Norway

Tel: +47 55 34 41 77 or +47 55 21 54 60
Fax: + 47 55 34 61 22
E-mail: odd.bjornestad@broadpark.no
2010-04-28