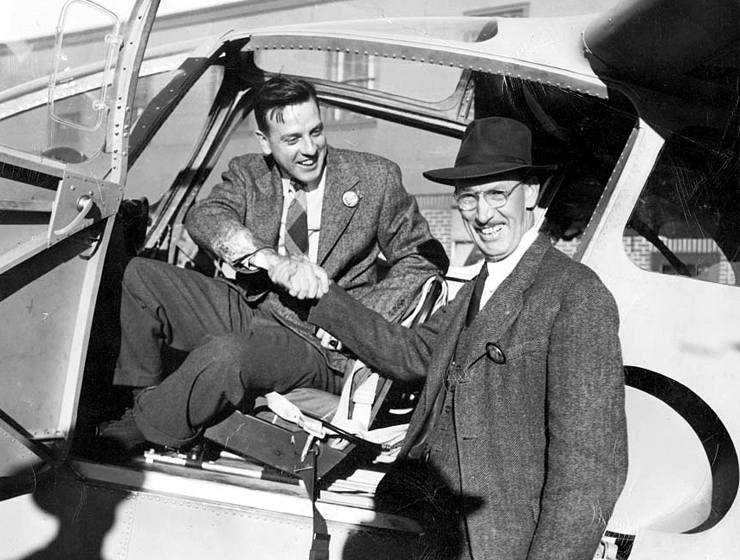 Many individuals have played important parts in the history of the Seabee; as engineers, test-pilots, Republic Aviation Corporation employees, as mechanics, as Seabee owners and pilots, as dealers, etc. During the 50+ years of Seabee history, many Seabee experts have helped keeping the Seabees flying. The Seabee People section will have short biographies for some of them. If you have corrections, additional information and suggestions for people that should be added, please e-mail me.

Percival H. Spencer

Percival Hopkins Spencer was born on April 30, 1897 in Windsor, Connecticut. Percival always hated his name and preferred to be called "Spence".

As the third child of inventor genius Christopher Miner Spencer, Spence was destined to become an inventor from the genes. Christopher M. Spencer (1833 - 1922) invented one of the earliest successful repeating rifles in 1860, the automatic screw machine (that produced screws in one operation) in 1873 and the repeating shotgun in 1886.

Growing up in the early days of aviation, Spence very soon showed a keen interest in the 'flying machines'. When Popular Mechanics Magazine published plans for a hang glider, the youngster built one, thus providing the means to make his first solo flight April 2, 1911 at age thirteen from Prospect Hill in Keeney Park.

On May 15, 1914, just two weeks after his 17th birthday, Spence made his first flight in a powered aircraft. He had rebuilt a Curtiss-type flying boat, which he took took to the air from the Connecticut River in Hartford. This was the start of a long career as a pilot, inventor and aircraft designer.

In 1940/41 Spence designed the first Spencer S-12 Air Car amphibian. Late in 1943 the Air Car design patent was sold to Republic Aviation Corporation, where Spence started to work as a design consultant and a test pilot. Republic developed the Air Car into a four seat, all metal amphibian, from 1943 to 1945. Named RC-3 "Seabee", the amphibian became Republic's contender to the post WW2 personal airplane market. 1060 Seabees had been built when production ended in October 1947.

In 1968, Spence designed and marketed with his partner, retired USAF Col. Dale L. "Andy" Anderson, the 4 passenger Spencer Amphibian Air Car, (S-12C, D, E) as a home built.

Spence passed away on January 16, 1995 in the Del Amo Nursing Home, Torrance, California. Read more in the Spence Biography.


Carl A. Bellinger

Unlike most military-trained factory test pilots, Carl Bellinger came up through the civilian piloting ranks after earning his private license in 1930. He started his career in 1939 as a production test pilot on the P-47 thunderbolt, and flew the experimental XP-72 version of that aircraft as well. While testing the Republic F-84B Thunderjet, he established a new world speed record of 621 mph.

After performing initial taxi tests of the new XF-91 hybrid jet/rocket interceptor at Republic's Farmingdale, Long Island facility, Bellinger made the first flight of that radical aircraft at the Muroc Air Force Flight Test Center (later Edwards AFB) on May 9, 1949. During an inflight emergency in the XF-91, he was guided to a successful emergency landing by his Air Force chase pilot flying an F-86 Sabre that day, who was noneother than the legendary Capt. Chuck Yeager.

Bellinger relocated to California as Chief Experimental Test Pilot to head up Republic's test operations at Edwards, and eventually returned to Farmingdale to serve as Manager of Flight Test. He also held the distinction of having flown Republic's largest and smallest aircraft, the sleek four-engined XR-12 Rainbow, and of course the Seabee. [Thanks to Mr. Mike Machat for writing the above biography on Carl Bellinger].

As one of the Seabee test pilots, Bellinger dive tested the Seabee up to an airspeed of 189 mph. In one of the dive tests made for the CAA certification, the nose door became unlatched.


Alfred Z. Boyajian

Alfred Zaven Boyajian - a first generation Armenian American - was born on 5 June 1913 in Watertown, Massachusetts, as the youngest of four children. His brother was Vahe and his sisters were Knar and Penny.

He educated at MIT - Massachusetts Institute of Technology and majored in Aeronautical Engineering in 1935.

As a young and talented aeronautical engineer, Boyajian was employed by Republic Aviation Corporation, Farmingdale, Long Island, New York.

The spectacular success of Republic's labors to simplify the Seabee airframe for mass production can to a great extent be credited to Republic's genius structures project engineer Alfred Boyajian. By applying then new theories of stress analysis to the Seabee design, Boyajian substituted the complex conventional ribs, spars, stringers, clips, angles, and other reinforcements that aircraft designers took over unquestioningly from aviation's wood-and-fabric days, with simple metal counterparts easily produced and assembled by automotive manufacturing methods. Although the Seabee was 15 per cent larger than the conventional RC-1 prototype, it had one-fourth the parts and took less than one-twelfth the man-hours to build. On individual assemblies the savings were often much greater.

1. The hull: Far more difficult to build than a fuselage, the prototype Seabee hull required 362 parts, 590 man-hours, and 6,500 rivets. By putting most of the internal weight into a tough outer shell, Republic greatly increased strength and corrosion resistance. Eliminated: 20 pounds, 299 parts, 560 manhours, and 4,100 rivets. Labor savings: $1,400.

2. Stabilizers: Republic's search for simplification began with this assembly. All but one rib and two spars were dropped, their strength replaced by a heavier skin with raised beads four inches apart, like the wing skin at right. Savings: 32 parts, 11.5 man-hours, 361 rivets, and $28.75 in labor.

3. Wingtip floats: Here a typical, twelve-part "egg-box" aircraft construction totally vanished, leaving a two-part job whose deep-drawn halves were simply welded together, with a hit of riveting around the neck. Fabrication time: 15 minutes. Saving: $23.

4. The wing: To prove to skeptics at Republic that the new stabilizer was no aerodynamic freak, the same principles were applied to the wing panel, which is ten times as large. The long-revered internal maze of ribs and stringers of the conventional design melted into three ribs and three spars. Over the simplified skeleton a single ribbed sheet is curled, riveted in one pass through Republic's new machine, and closed with a simple cap at the tip. Parts were reduced from 114 to 30, weight from 150 to 110 lbs, rivets from 2,627 to 882, and manhours from 280 to 15. Labor savings: $662.

5. Ailerons: Republic's successful surgery had cut aileron parts from eighteen to eleven, thereby saving $27 in manhours. The completely hollow, six-part model could be made in eighteen minutes.

Boyajian published several scientific papers and lectures on his revolutionary approach to simplification of aircraft structures for low cost manufacture using automotive manufacturing methods. He was awarded patents for the Seabee construction methods. In addition to the Seabee, Boyajian also worked as a structural engineer on the P-47, F-84, XF-12 and XF-91 aircraft.

Alfred Boyajian married Grace A. Nakashian, also a first generation Armenian American, and they got two sons; Alfred (Fred) Mitchell Boyajian (30 August 1945) and David Edward Boyajian (11 December 1947).

Alfred Z. Boyajian passed away in California on 6 January 1988.


George Hildebrand

George Hildebrand came with his parents to the USA from Paris, France, in 1915. His father was a noted fashion designer, and George soon exhibited the design talents of his father. An early interest in cars took him to all the auto shows and design studios, and soon he worked as an apprentice with such companies as LeBaron and Rollston, helping designing the beautiful bodies of Dusenberg and Packard automobiles. Later he studied with master automotive artist Roland Stickney.

In 1939, while working with legendary Cadillac design chief William Mitchell in Detroit, George saw a small want ad in a Detroit newspaper asking for "automotive designers to join the aircraft industry". The aircraft company was based on Long Island, New York. Sticking to his saying that "once you've lived in Manhattan, anywhere else is like camping out" - George applied for the job. On Christmas Eve day 1940 George started his new job as a design engineer with Republic Aviation Corporation.

His first assignment was to design cockpit canopy enclosures with improved visibility for pilots during aerial combat. One of his projects included the P-47D single piece "blown bubble" canopy. Next project was the new Republic Seabee amphibian that Republic was developing for the expected post war personal airplane market. Again George's automotive design experience paid off handsomely. George was responsible for designing the cabin and considered the Seabee his personal favorite, because "it was the only Republic airplane that allowed the pilot to take along his entire family!" All Seabee enthusiasts who love the 'art deco' 1940s Ford look of the Seabee, are deeply grateful to George Hildebrand and his people for creating the unique classic style of the Seabee. One of the special features of the interior is the seats that can be arranged into beds!

After the demise of Republic's civil projects, the RC-2 Rainbow airliner and RC-3 Seabee, Republic focused on military aircraft and designed some of the greatest classic jet fighters ever built; F-84 Thunderjet, F-84F Thundestreak, RF-84F Thunderflash, XF-91 Thunderceptor, F-105 Thunderchief. Hildebrand is credited for the F-105 getting the name "Thunderchief". George worked closely with his friend, and legend aircraft designer, Alexander Kartveli for many years. George projects for the 'Thunder'-jets included ejections seats and escape systems, canopies, interiors, etc. Several of his designs were patented, including the cantilever canopy design of the F-84F and the F-105 rocket powered ejection seat.

Hildebrand was also consulted by Republic engineering friend Herbert Lindblad to design the interior of the C-1 Skimmer amphibian that Grumman engineer David B. Thurston and Herb Lindblad were designing in their spare time. Thurston and Lindblad formed Colonial Aircraft Corp. in 1946 to build and market the C-1/C-2 Skimmer amphibians. They are still produced in developed form as the Lake Renegade amphibians.

In the mid 1960s Republic started suffering hard times, and eventually took on civil non-aviation projects, including a contract with New York State for the design and construction of safety concepts to improve crash survivability in future cars. With George as the program manager and chief designer, the Fairchild-Republic Safety Car Program designed several innovative safety features that only in our days are starting to be standard on most cars; interior inflatable crash cushions ('air bags'), high mounted brake lights, children safety carrier seats, seat headrests against whiplash injuries, high impact bumpers, etc. Two prototype ESV (Experimental Safety Vehicle) cars were built by Republic Fairchild for DoT in the early 1970s to demonstrate the safety concepts that all cars have today.

George retired from Republic in 1972. He was always proud of being a "RACer"! George Hildebrand passed away in 1983. However, his heritage lives on in every Republic Seabee flying... [Many thanks to aviation artist and magazine editor Mr. Mike Machat for supplying this fascinating information on his uncle! See "Wings Magazine", October 2000 issue, for more...]


John Philip Hooper

John Philip Hooper passed away peacefully on August 17, 2015. He was 101 years old. John was born in Saginaw, Michigan on July 24, 1914 to James and Arvilla Hooper. He graduated from Arthur Hill High School in 1931 and married Edythe Margaret Sharpe on October 10, 1936. During World War II he served as a flight instructor for the War Training Service and also worked as a flight school manager for Purchase Flying Service at the old Saginaw Municipal Airport. In 1946 John and his partner, John Langschwager, established Sky Haven Airport on 86 acres of farmland on North Michigan Road. The airport operated a flight training school and offered airplane rides along with aircraft storage and repairs. The partnership also owned a Republic Seabee dealership and flew demonstration flights over Saginaw Bay.

For the next seven years John additionally served as a private commercial pilot examiner for the US Civil Aeronautics Administration and as an advisor to the Michigan State Board of Aeronautics. In 1950 the partners opened Skyway Television Sales and Service, later to become Skyway Furniture and Appliances, at the airport site. They closed the airport in 1953, and the planes were sold. In 1965 they built Skyway Plaza shopping center and developed the remaining property as Skyhaven Park, a residential community.

After retiring in 1970, John and his wife Edythe maintained a winter residence in Bradenton, Florida and a summer home in Suttons Bay, Michigan. He enjoyed golf and fishing and created and hosted the online version of the International Republic Seabee Owners Club, providing a valuable way for Seabee owners from around the world to sell and exchange parts, service and information related to these historic planes. John was a long-time member of the Saginaw Country Club, the Elks Club, the Germania Society, the First Congregational Church and, more recently, The First Presbyterian Church.

He was preceded in death by his wife Edythe (October 22, 2000) and re-established residence in Saginaw at that time. He is survived by his son James Hooper and daughter-in-law Sharon, his daughter Patricia Everhardus and son-in-law John, his grandchildren Cory Hooper Conti, William Hooper, Thomas Hooper, John Everhardus, and Katherine Everhardus Hipps, and seven great-grandchildren.


Fenwick E. Lind

Fenwick E. Lind, was born in Pontiac, R.I. on March 5, 1923, and passed away Monday, December 27, 2010. He was a retired captain in the Air Force, a retired captain for Eastern Airlines, an EAA lifetime member 197443, a Quiet Birdman member 38866 and a Willow Creek Church member since 2000.

Fenwick's career in aviation started at age 10, when his dad bought him a 45-minute ride in an Aeronca C-2 at the local airport. The Depression year of 1933 meant the $5 ride was a sacrifice on the family budget, but each time Fen heard an airplane, he had to run outside to watch. His father was far from wealthy, but he knew someday his son would sprout wings. The pilot of the C-2 was a splinter of a man, probably weighing 95 lbs. dripping wet, so Fen easily slipped in beside him in the narrow cockpit. His career was clear after that ride! Fast forward to Dec. 7, 1941, with the Japanese bombing of Pearl Harbor. Fen had logged 75 hours flight time flying in the civilian pilot training program (CPT), and then with the U.S. at war, he entered cadet training with the Navy, gaining his wings in July 1943, at age 20. He promptly signed up as a fighter pilot with the Marine Corps. Flying F4U Corsairs, he survived three campaigns of island hopping in the Pacific from Bougainville all the way to Leyte, in the Philippines.

Antiaircraft shot him down in 1944 near the Jap-held Rabaul Harbor, and after paddling four hours in his rubber raft, he was rescued by a Navy PBY, "Dumbo." Forty plus 'missions' later and two DFC's, he returned home in 1945 to find no steady flying jobs available. So Fen went back to college (University of Miami), where he earned his degree in 1949 in aeronautical management. Finally in 1950, Eastern Airlines recognized his worth and placed him in the right seat of a DC-3. In six years, he had his fourth stripe, and was a captain for the second time, but as a civilian.

During his 33 years with Eastern, he typed on most all the airline offered from the Martin 404, Convair 440, Douglas DC-58, DC-7B, Lockheed L-649 through L-1049G, L-188, Boeing B-707, B-720, B-727, and his favorite, the L-1011 wide body, when he retired at the mandatory age of 60.

Following retirement, Fen continued flying his own Twin SeaBee off beautiful Cobbetts Lake in southern New Hampshire, where he had restored a six-bedroom home. After selling the Twin SeaBee in 1997, Fen and his wife, Lilli, moved to the Village of Huntley, 50 miles northwest of Chicago. Three years after their move, Fen lost Lilli, his love of 33 years, to cancer in May 2000. One year later, Fen found another love and Christian lady, Theresa, whom he married in July 2005, and moved into Del Webb Sun City Huntley, with his new bride.

Fen was active in aviation circles, even in his 80s, but flying much less than earlier, and continued to volunteer his services at EM Oshkosh for over 15 years. His last logbook entry in 2010 lists a total of 26,342 hours flown. Fen was awarded a Master Pilot Award in October 2005, having qualified in part, with no violations or accidents filed for 50 consecutive years of flight from 1943 through 1993. Fen loved to fly, a spiritual person and true believer, he strived to walk with Christ his entire life.

Surviving is his loving wife, Theresa; and numerous cousins, nephews and nieces. Fenwick was preceded in death by his parents, Mamie and Lambert Lind; his brother, Bert Lind; his prior loving wife, Lilli; and his two children, Jennifer and Stephen Lind.



Alfred Marchev

Born on August 25, 1896 in Petrikau (Lodz), Russia (now Lodz, Poland), Alfred Marchev emigrated to the USA from Europe in 1919. His early job career included aviation experience with Thomas Morse Aircraft Corp. and in the 1920s - forming his own radio company. Later he had various production engineering jobs with Western Electric, Ithaca Gun Works, Ditto Inc. and Signode Steel Strapping Co.

On 12 July 1921 he married Martha Goodspeed Bovier. They had three children; George Bovier Marchev, Mary Elizabeth (Mimi) Marchev and Alfred Marchev Jr.

In March 1942 Marchev was 'headhunted' by Republic Aviation Corporation's third president, Ralph Damon. Starting out as Damon's assistant, Marchev's remarkable skills in production management and production engineering soon had him managing both the Republic plants, in Farmingdale, NY, and in Evansville, Indiana. At the peak of the war, the two Republic plants were turning out a total of 450 P-47 Thunderbolt fighters a month!

When Damon stepped out in September 1943, Marchev moved smoothly in as Republic's fourth President. This was the first nonviolent administrative shift in the company's history. At long last, Republic's stockholders could assume that their company had achieved the maturity of management stability. It was also healthy enough that year to pay a 25-cent common-stock dividend - the first in history.

As the new president of RAC, Marchev was soon facing the emerging challenges of peace! The end of WW2 would mean a dramatic reduction in military sales. Marchev very early realized that he had to start preparing Republic for the civilian market. It was expected that of the many thousands of military pilots returning home, many would like to have their own personal airplanes when war ended. Also the giant leaps in aviation technology made during war would make the air transportation look completely different. And finally - the first US military jets were developed. Republic decided to focus their peacetime on three new aircraft; the four engine XF-12 / RC-2 Rainbow propeller transport, a single engine four seat personal amphibian and the XP-84 Thunderjet jetfighter.

Late 1943 Republic acquired the manufacturing rights for a small pusher amphibian, the Spencer Air Car, designed and flown by Percival H. Spencer just before USA entered the war. Spencer had previously been one of Republic's manufacturing test pilots for P-43 and P-47, but was now hired by Marchev to be a design consultant for Republic's secret peacetime amphibian project. The board accepted Marchev's direction and early 1944 a small group of dedicated engineers started the building of a concept prototype under the designation RC-1 ("Republic Commercial One") Thunderbolt Amphibian. The RC-1, registered NX41816, made her first flight on 30 November 1944 with Spencer at the controls.

However, Republic Aviation's president Alfred Marchev, realized that if Republic was going to win the expected post WW2 personal airplane market boom, they had to make something different at a price affordable for the masses. Marchev contended that there was something drastically wrong with the design of airframe structures, since their manufacturing costs were so high. Comparing it with automotive standards, he felt that for the cost of making a single assembly such as a wing or tail, it should be possible to make not just one, or two, or even three, but anywhere from five to ten times as many by simplifying the designs and reducing the number of parts required.

Alfred Z. Boyajian, one of Marchev's most skilled engineers, wrote about Marchev; - He deserves great credit for being one of the first executives who not only established what was wrong, but more important, did something to correct it.

Marchev ordered a complete redesign of the Seabee to reduce the cost dramatically. He wanted to build and sell personal aircraft at the price of automobiles...! The seemingly impossible goals Marchev set for his engineers were: a four seat amphibian aircraft at a sales price of $ 3.000 - the conventional prototype would have an estimated sales price of $ 13.000!

The engineers, headed by Alfred Z. Boyajian, took the challenge. Several changes were made; the tapered cantilever wings were replaced by constant chord strut braced wings, the partly burried retractable wheels of the RC-1 were replaced by wheel retracted in the free air. Number of parts were reduced substantially by introducing deep die press forming methods from the automotive industry, and wherever possible automotive parts and components were used in favor of overpriced aviation industry parts. In order to reduce the costs of the engine installed, Republic even acquired the engine manufacturer. Republic also negotiated large quantity rabates from vendors. For the first time an aircraft manufacturer seriously looked to the automobile industry to take advantage of automotive design and manufacturing methods for reducing production time and costs.

Unfortunately, several factors made big problem for the Seabee production and sales. Important manufacturing tools such as sheet metal presses got delayed from the tool subcontractors, material and labor costs increased forcing Republic to increase sales price twice in less than a year. Production deliveries got delayed and production rates were never even close to the original goal of making 400 Seabees per month - 5.000 in one year. In June 1947 Republic was forced to stop production when sales failed, after only one and a half year and 1060 built. On 2 October 1947 Republic announced that the Board had made the final decision to terminate the Seabee project in favor of military aircraft such as the new F-84 Thunderjet fighter jet.

On December 28, 1946, it was announced that Republic's chief engineer Alexander Kartveli had been elected a Director. Three days later, President Alfred Marchev was shifted to the board chairmanship, and his forty-year-old sales manager, Mundy I. Peale, was chosen to take over as President.

Alfred Marchev died from congestive hearth failure on 27 November 1947, at the age of 51.


Joe B. McHugh

McHugh was a true Seabee enthusiast and an avid long-time Seabee owner. For many years McHugh developed and sold some of the most popular and innovative Seabee engine conversions and Seabee modifications available, through his company Simuflight. The Simuflight GO-480 engine conversions were installed on Seabee all over the World.

Born August 27, 1931, in Tacoma, McHugh graduated from Enumclaw High School and served in the Navy Reserves as a pilot. He lived in the South County area for 70 years.

McHugh worked at Pacific Northwest Airlines as a flight engineer and co-pilot; at Western Airlines as a co-pilot and captain; and as a captain at Delta Airlines.

Joe sadly was killed in a tragic Seabee accident on June 16, 2003. He is survived by his son, Scott A. Henderson of Anchorage, Alaska; daughters, Penny Larson of Woodinville, Kris Goldman of Salt Lake City, Utah, and Lynn Clark of Bothell; brothers, Jim McHugh of Enumclaw and John McHugh of Olympia; sister, Barbara Jussila of Sumner; and eight grandchildren. After the tragic death of Joe McHugh, his children decided to continue the legacy and the support for Seabees that their father so loved.


C. Robert Mills

Frank Mills had already been operating the Philadelphia Seaplane base for 5 years when, in 1920, his second son Bobby, was born. If anyone ever grew up in aviation it was Bob Mills.

In his early years Bob lived right up the street from the Seaplane base where his father worked. Bob and his two brothers all worked for their father at the base while they were growing up. All of the brothers eventually earned both pilots and mechanics licenses.

Bob tells the story of his first introduction to the Aero Club of Pennsylvania. His father, who was a director and long time member, took Bob to the "Wright Brothers Dinner" in about 1932. Bob remembers the speaker, Dr. Hugo Eckener, the commander of the Graf Zeppelin. Bob later joined the Aero Club himself and is still a member today. In 1939, Bob went to Miami to work for Pan American Airlines as a mechanics helper on the Sikorsky S-40 and S-42 four engine flying boats that Pan Am was flying to South

America. Bob was primarily assigned to work on the S-42 that flew from Miami to Rio de Janeiro. The round trip took 10 days and put 100 hours on the airplane. During his time at Pan Am, Bob had an opportunity to work on a Boeing 314 flying boat that was unable to get into New York for service and had come to Miami. He remembers that he was able to stand up inside the center section of the wing and walk through the wing between #2 and #3 engines. Pan American also had a Boeing 307, which they used to fly from Miami to Mexico City. It was the first pressurized airliner. Bob remembers working on it and installing larger oil coolers to help with oil temperature problems when flying over the mountains.

Bob remembers getting his recommendation ride for his commercial license from Ernie Buehl, who Bob had watched solo one of his father's airplanes many years before.

In 1940, Bob's father got sick and Bob returned home to help at the Seaplane base.

After his father's death, Bob operated the base until December 8, 1941 when all civilian flying within 50 miles of the coast was curtailed. The propellers were removed from the airplanes and the hangers locked until further notice. Bob then went to work at the Naval Aircraft Factory at the Philadelphia Naval Base.

In June of 1942, Bob was sworn into the Navy as a Seaman 2nd Class in the Aviation Cadet program and went to Pensacola, Florida.

In July 1943, he graduated as an Ensign and Naval Aviator and received his "Wings". He continued his training to be a Torpedo Bomber Pilot flying the Grumman TBF "Avenger" aircraft.

1944 found Bob aboard the USS Santee in the Pacific as a torpedo bomber pilot.

The Santee was an old tanker that was converted to an aircraft carrier. It is during this time that he was awarded the Distinguished Flying Cross for his part in the operation in Leyte Gulf. Bob returned to the United States and went to Night Fighter school in Daytona Beach flying Grumman F6F "Hellcats".

After the war ended in 1945, Bob returned to Philadelphia. His older brother Frank already had the Seaplane base operating. Bob received his Flight Instructor Certificate in 1945. When his younger brother Bill was discharged from the Navy in 1946, all three brothers operated the Seaplane base together. They became dealers for Cessna and the Republic "Seabee" aircraft. They did pilot training, air taxi, and maintenance.

Later, brother Frank decided to pursue a career in corporate aviation and Bill decided to concentrate on the boating side of the business.

Bob continued to devote his time to the flying part of the business. During 1945, Bob joined the Naval Reserve and during his career flew Grumman FH-1 Phantoms, F9F6 Cougars and Lockheed TV-2 (T-33B) trainers. He ultimately became Commanding Officer of Jet Fighter Squadron 934 at Willow Grove Naval Air Station.

In 1980, Bob retired from the Naval Reserve after 27 years of service with the rank of Commander.

In 1954, Bob became a Designated Flight Examiner and started giving pilot flight tests.

From 1972 to 1975 while still operating the Seaplane base, Bob also worked with Downtown Airlines as Chief Pilot. Downtown Airlines flew Piper Aztecs and de Havilland Twin Otters on straight floats. They operated from the Delaware River at Penns Landing in downtown Philadelphia to the East River at the foot of Wall Street in downtown New York City. They flew five round trips a day. The trip took about 30 minutes which was much faster than even the Metroliner from downtown to downtown.

Over the years Bob continued to add more examiner authorizations and was able to give Private, Commercial and Instrument ratings in single engine land and sea airplanes.

He was also authorized to give private and commercial multi-engine flight tests in Cessna 310 and 320 series, Beech A55 and 95 "Barons and Travel Airs", Trecker "Gull" P-136-L1, de Havilland DHC-6-300 "Twin Otters", Piper PA-23 "Apache" and PA-30 "Twin Comanche" series, Aero Commander 560 series, Grumman G44 "Widgeons", Douglas "Dolphin" model 9, and Commercial "Type Ratings" in the Grumman G-73 "Mallard". The Douglas Dolphin is unusual as there is only one left flying and Bob was the only examiner authorized to give flight tests in that airplane.

In 1998 at the age of 78, Bob earned a "Type Rating" in the Grumman G-64 "Albatross", the largest of the Grumman amphibians.

In the almost sixty years that Bob operated the Philadelphia Seaplane Base he became very well known.

Much of his business was giving seaplane ratings to airline pilots that came through PHL on layovers.

They would find the seaplane base, come in look around decide to fly with Bob and then go back and tell all their buddies how much fun it was to get a seaplane rating in Philadelphia. This of course created a never-ending supply of customers for seaplane ratings.

Bob Mills passed away from congestive heart failure on March 29, 2008 at Halifax Medical Center in Daytona Beach, Florida. He was 87. Bob reviewed this article for accuracy a few weeks before he passed away.

He will be sorely missed. His passing is truly the end of an era for the aviation community in Philadelphia.

Seaplane operations at the Philadelphia

Seaplane base continue under the direction of Bob's successor and good friend Hank Grenfell. Bob's memory will live on with every seaplane landing on the Delaware River.

Source: "Pennsylvania Pilot", Vol 19 No 2, Summer 2008
"Member Tribute - C. Robert Mills, 1915 - 2009"; by Walt Ellis


George Mojonnier

George Mojonnier should certainly be included in your Seabee project. I don't know if you will be getting any other information about him but I will put down now what I know.

When I bought my Seabee in '65 while living in the Chicago area, I was told I should contact George who headed up the Chicago Seaplaners Club. They met once a month at a dinner-meeting and participated in flying activities on most weekends. It was open to anyone with a seaplane but all the members I met had Seabees. George had an A&P license and was a great help to me, as were the other members of the club.

All of us were constantly thinking about ways to improve the performance of the 'Bee and everyone agreed the biggest need was for a larger, more modern and reliable engine. To my knowledge, George had the original idea for installing the Lycoming GO series engines. This was because gear casing would help keep the engine further forward than other engines and it was readily available at a reasonable cost.

He had an old GO-435 that he used to calculate the C G changes and made a plater of paris mold around it for proposed cowling. He didn't have any aeronautical engineers closer than St. Louis for help so was unable to get very far in his plans.

About that time I moved to Seattle where there were a lot of Seabees but no club. I sent out a mailing to all the Seabee owners in the area and invited everyone to a dinner-meeting at a restaurant on one side of the old Bellevue Airport. I think we had 35 or 40 people at that first meeting. It was a great success and it was noted that we had a number of engineers from Boeing in attendance. Over the next few months one of them, Steve Gross, agreed to do the calculations and actually build a motor mount for George. I flew it back to George on one of my flights to Chicago.

Another engineer was Jack Daubenspeck who decided to design his own engine conversion. Jack's main job was as a design engineer at Kenworth Truck in Seattle but decided to form a small informal company he called, Aerocraft Inc. to do work on Seabee modifications. He also designed and built a droop wingtip and made molds so he could manufacture them and sell them. Jack was the president of Aerocraft and I was the Vice President. Somebody put up $5,000. but I don't know who that was and never met him. He was named Treasurer.

George Mojonnier and his wife, Mary, came out to see what was going on with our active group and soon decided to move to Seattle. George became disenchanted with Jack and proceeded to continue work on his own Lycoming conversion design. He did this very quietly and after a few years he had his own, one time STC'd conversion with a GO-435 flying on his Seabee. I didn't know about it until one day he showed up with it.

In a few more years George and Mary moved into Western Airpork at Yelm, WA. Steve Gross built his own house next door. Randy Komko had his house and hanger on the other side and at the end of the runway. John Greef had his house and hangar about mid-way down the runway and on the same side as Randy's house.

I don't know the date when George passed away of natural causes but believe it was in the mid 90's. Mary had been in a home and had also passed away. George's daughter-in-law sold George's Seabee to a man in California and Joe McHugh agreed to fly it to California with the new owner. Joe and the new owner crashed after the engine quite right after take-off, killing Joe outright and severally injuring the new owner. The new owner may have died from his injuries later.

I forgot to mention that George wrote a column for awhile for The Green Sheet, an aviation newspaper in the late 80's

Perhaps others could add to this bio about George. I always considered George as, "Mr. Seabee".


Donald V. Kyte 2006


Benjamin Stuart Paschall

4/2/1933 - 5/27/2017

Ben was born in Seattle to Benjamin and Helen Paschall. The family lived in the Madison Park area and Ben attended several different schools in the Seattle area. He went to St. George's in Vancouver, BC for high school, after which he joined the Navy in 1951. He got his honorable discharge in 1954 as an Electrician's Mate. He came back to Seattle and started a landscaping business for several years, before managing, with the help of his mother, his late father's company that manufactured asthma nebulizers. Eventually, when he took over the company, Ben guided Pascal Company into another direction - that of manufacturing dental products - and further expanded it into the thriving international business it is today. Ben valued and treated his employees as family, to the extent that the majority of them have been with him from 18 to 45 years.

During part of this time, he was married to Joan Larson and enjoyed raising his 3 children, living on houseboats, sailing around the Sound in his 6-meter sailboat, and flying all over in his 1947 Republic SeaBee amphibious airplane. After his divorce, Ben started a new phase of his life - that of the party bachelor, avid skier, tavern owner, pilot, traveler, and continuing international businessman.

His third life phase started when he met his future wife, Penny Braden, in 1983 at a ski club function. This was the beginning of a long, loving friendship and life together of skiing, hiking, traveling, cruising, RVing, flying, and boating on their beautiful Skookum 53. After all those years, they decided that "this just might work" and got married January 2016. Their future plans for more fun adventures together were interrupted by Ben's being diagnosed with Lewy Body Dementia. Even after that, they managed to squeeze in several more trips to South Africa, Dubai, New Zealand and Australia. To the end, he still had his lovely smile and caring heart.

He is survived by his wife, Mary (Penny); his children, Susan Rich (Casey), Steven, Brian (Deborah); his grandchildren Lenny & Rachael Rich, Aiden, Erika, & Cayden Paschall, Ariana Langheld; his sister-in-law, Jenny Paschall and her children; his step-brother, Stuart Murphy (T.J.) and their children.



Harlan James Poel, Jr.

May 16th, 1943 - January 29th, 2011.

Harlan James Poel, age 67, of Daytona Beach passed away on January 29, 2011. He suffered a heart attack after recovering from his injuries from his "Curtiss Albany Flyer" accident on June 18, 2010. Jim was a true "mans-man" with his love, Lovada, by his side for 31 years. He began a career in aviation at the age of 22, with his career spanning 38 years with American Airlines. He was a test pilot and often a special speaker for Glenn H. Curtiss Museum of Hammondsport, New York. He and his wife were co-founders of the Seaplane Homecoming, which was held at the Curtiss Museum. Those who are left behind to cherish his memories are his wife, Lovada, mother Velma Forgarty (husband: Ed), one daughter, Debra Pope (husband: Chris), two brothers Charles Poel (wife: Fran), Thomas Poel (wife: Laurie), and one sister Karen Rickards (husband: Bill). Jim is preceded in death by his father Harlan James Poel and one daughter, Sherri. His family and friends will greatly miss this gentle man. There was a "Celebration of Life", on Friday, February 4, 2011 at the Spruce Creek Fly-in Community.

Jim was the proud owner the award winning Republic Seabee N6240K (s/n 443). Together with Lovada and other members of the "Bee Gang" he frequently visited seaplane gatherings and other fly-ins to the joy of everyone who loves the Seabee. An avid promoter of the Seabee, Jim always willingly shared his knowledge and advice on the Seabees to everyone interested. He was also an expert Seabee flight instructor. The Seabee Community has lost one of its most influential members.


Capt. Richard W. Sanders

Richard W. Sanders was born in Minneapolis, Minnesota, on 13 October 1927. He soloed as a student pilot in 1952 and two years later he earned his commercial pilot rating. From late 1954 he was a commercial pilot with Central Airlines, Fort Worth, Texas, and later Frontier Airlines, Denver, Colorado. Some of the aircraft types he was a pilot on included; Douglas DC-3, Convair 240, 340, 440, 580 propliners and Boeing 737 jets. Richard retired as an airline captain in 1975, but continued to fly commercially for a number of smaller companies and as a test pilot until 1985. His logbooks were closed with more than 21,000 hours in them...

Since August 1970 Richard owned Seabee N6458K (s/n 709), bought from a TV station owner in Minneapolis. N6458K was a former Einarson Bros aircraft, and had the recognizable 'trademarks' of Einarson's Seabees; splates, inboard wing-root fences and extended spray rails. When living in Ft. Worth during the 1970s Richard belonged to the 'Texas Swarm' of Seabee enthusiasts. 'The Swarm' included people like Tom Danaher (N191VW), Capt. Marion Wright (N6048K) and E. E. Stell (N6705K). They would get together whenever they could for Seabee meetings and frequently the Seabees were operated from Eagle Mt. Lake.

In 1977 Richard met Peggy, who also was a pilot, and together they moved to Fort Lauderdale, Florida. Richard offered Seabee instruction and charter rides in Florida under his business' name Tradewind Seaplane Service. He was also hired as test/demonstration pilot for Teal Aircraft Corp. in St. Augustine, where he flight-tested new Teal amphibians and demonstrated them for potential buyers. During the 1970s Dick was the test pilot for 10 US government surplus Grumman Albatross amphibians sold to Mexico. In the 1980s Richard piloted Grumman Albatross N6969 for The Smithsonian Institution throughout the Caribbean on marine biology research missions out of Andrews AFB. The Albatross was Dick's favorite airplane - "The Ultimate amphib!".

Together with Peggy, Richard started the Seabee Club International in 1983 to continue the efforts of Mr. George Mojonnier in the 1960s and 1970s. Richard & Peggy did a tremendous job publishing the highly informative 'Seabee Club International Newsletter' for 9 years, the first published in April 1984, the last (#30) in April 1993.

Richard was a member of Seaplane Pilots Association (SPA#200), and he was the Southern Director for several years.

From 1993 Richard sadly started to suffer from Alzheimer's decease and on 2 February 2001 he passed away. He was survived by his wife Peggy and his two sons West and Rand, who both are commercial pilots. Dick will be remembered by Seabee enthusiasts and aviation friends from all over the World...


Alexander P. De Seversky

Alexander de Seversky (1894-1974). Born in Triflis, Russia, 7 June 1894. Died 24 August 1974. After acquiring an aeronautical engineering degree, Alexander Prokofieff de Seversky was commissioned as a lieutenant in the Imperial Navy of Russia in 1915. On his first combat mission he lost his right leg. Less than a year later he was back in the air, flying 57 missions, and downing 13 German aircraft to become Russia's top Naval Ace. In 1917 de Seversky came to the USA, offering his services to the War Dept, making outstanding contributions to their production of the British-designed SE-5 fighter and serving as a test pilot.

In 1921 he and General Billy Mitchell worked together staging the bombing tests that graphically demonstrated the vulnerability of battleships to airplanes. Then, following his invention of the in-flight refueling method, he worked with the Sperry Gyroscope Company, to produce a gyro-stabilized bombsight in 1923 that was acclaimed the world's best. He was commissioned a major in the USAAC, and founded Seversky Aircraft Corp in 1928. In 1930 de Seversky again made a most important contribution to his new country's air efforts in the all-metal P-43 fighter, predecessor of the historic P-47 Thunderbolt. Many of its new concepts are universally accepted construction principles for today's aircraft. Capable of speeds over 300 mph, the P-43 gave long-range and high-altitude protection to US bombers. He also developed an advanced design amphibian in which he set world speed records 1933-35, and an all-metal monoplane that set speed records at the 1933-39 Nationals, as well as a transcontinental speed record in 1938.

The outbreak of WW2 found the US air arsenal pitifully neglected. To bring the magnitude of this problem to public attention, de Seversky wrote his best-seller book, "Victory Through Airpower". Also made into a movie, it awoke people to the need for better airpower. For that, and for his counsel on the strategic use of air power, President Truman awarded him the Medal of Merit. By then he had become world reknown as an expert in the areas of airpower and defense. His Seversky Electroatom Corp of 1952 directed its efforts to defending the USA against nuclear attack, and to extraction of radioactive particles from the air. Research in that area led to the discovery of the Ionacraft, an aircraft that derived lift and propulsion from ionic emissions. For serving as a special consultant to the Chiefs of Staff of the USAF, he received the Exceptional Service Medal in 1969. De Seversky was enshrined in the National Aviation Hall of Fame in 1970.


Thor Solberg

One of the most famous Norwegian aviation pioneers. In 1935 Solberg flew a Loening Air Yacht amphibian (wheels removed) from New York, USA, to Bergen, Norway, via Canada, Greenland and Iceland. During WW2 Solberg founded the Solberg Huntington Airport in New Jersey, USA, where his flying school would educate more than 2000 US Army pilots.

After the war, Solberg came back to Norway to start a flight school and he was also the Republic representative for Norway. Solberg imported a total of 10 Seabees from Republic for a number of Norwegian operators, including his own operation 'Thor Solberg Flyveselskap A/S'.

Due to the hostile bureaucratic climate for starting aviation businesses in Norway, Solberg moved back to the USA in 1948, where he continued running the Solberg Huntington Airport. Solberg returned to Norway again in the mid 1950s, when he started a large flying school at Jarlberg Airport after American pattern. [Under construction]


Jim "Big Jim" Sorensen

Our seaplane family lost one of its finest in the late afternoon of April 7th 2010, when Jim Sorensen ("Big Jim", as many of us called him) passed away. He would have been 93 in November. In spite of a number of medical problems that he had been dealing with successfully, he was still driving and getting around until he suffered an aneurism in his head on March 19th and had to be rushed to the hospital and placed in Intensive Care.

All seaplane-pilots either know Jim or have benefited from his influence with legislatures to prevent restrictive rules regarding seaplanes, particularly in California.

When Walter Windus became the West Coast Representative for The U.S.S.P.A. (now SPA), Walt organized the first Clear Lake Seaplane Splash-In that takes place each September, and nearly all of them since. Jim and his wife, Dete, were part of the group of local pilots and business people who work hard each year to make this the major seaplane event of the western U.S.

Walter and his wife, Sue, spend many hours each year promoting seaplane activities and solving problems of access to lakes and reservoirs. Jim owned a Seabee, so helped Walt with problems relating to amphibious activity. Jim and Walter became a great team. Walter did the ground work and Jim supplied the muscle, where needed, with the powers that be.

All of the business people and most of the long-term residents living within fifty miles of Modesto, California know of "Big Jim" Sorensen. Jim's company built a lot of the huge warehouses and factories in that area, and all over the west. As a result he was well known and respected by those who make the rules in California.

Jim had learned to fly while working as a mechanic for Pan Am on China Clippers at Treasure Island in San Francisco Bay in the late 30's. He had a friend, "Spanky" Allen, who was learning to fly at the Alameda airport near Oakland. They were buddies and after Spanky had soloed, he would take Jim up and show him what he had learned. This friendship lasted throughout their lives. Spanky went on to become a legendary pilot for United Airlines and expired at the controls of his bi-plane years ago. His passenger, who was not a pilot, was talked down to a safe landing by instructions over the radio.

After Jim was able to solo himself he met an attractive blonde nurse named, Dete. He wooed her with flights over the Bay Area and soon won her heart. When Jim could afford it, they were married. Jim often said, she was the best thing that ever happened to him. Those of us who knew them well, fully agreed. In later years when Jim had lost his FAA medical and could no longer fly as pilot in command, Dete learned to fly at age 70 and also checked out on Jim's Cessna turbo 206 on amphibious floats so they could continue making flying trips. When Dete could no longer fly, Jim sold it to his good friend, Tom Hillier, who had taken over the lease on the large hangar Jim had built at Modesto Airport. Tom maintains a private museum there now and the 206 and a few other planes Tom owns are displayed there. These planes are maintained in excellent flying condition. Tom routinely conducts tours for young students from schools in the area.

Jim owned a number of planes through the years. He never drove anywhere that he could reach flying. He owned a Beech Bonanza for a few years but bought a top of the line twin-engine plane Dete named the "Hot Canary". This was a Beechcraft Baron painted a bright yellow. They flew it everywhere in all kinds of weather. Jim was a conscientious, pilot who kept up his piloting skills religiously. He even owned a small flight simulator that he kept at home to practice instrument flying. He meticulously planned everything he did. This applied to his constructing business as well his hobbies.

Jim owned an almond orchard south of Modesto which surrounded his home and outbuildings. This included a well equipped shop where he worked on a number of Seabees he had acquired. He personally restored at least two Seabees that I had located for him. When they were completed they were as near perfect as humanly possible. I have flown dozens of Seabees over the years and none of them were better than Jim's. After Dete passed away in 2003, Jim bought a luxury apartment in a retirement home in Modesto. His good friends, Tom and Margie Hillier kept in close touch with him. They were his closest companions during his final years. Friday night dinners out with Jim and a few friends happened every week.

Don Kyte


William Wesche Jr.

William Wesche was born on February 15, 1924, in Farmingdale, Long Island. After completeing high school in the summer of 1942, he enlisted in the US Army Air Corps. He completed primary flight training - Class of 44-D - April 1944 and went on to fly 18 combat missions out of Foggia, Italy, as a commanding pilot of B-17 bombers. He was slated for B-29 training, when war ended. Wesche was discharged as a 1st Lieutenant in October 1945.

Upon returning to Farmingdale, he found work as an Air Traffic Controller at Republic Aviation Coporation's (RAC) Control Tower (FRG), where he met his future wife Mary McPartland. Incidentally, the Federal CAA did not hire women to work as controllers back then, so she worked for RAC. Ms. McPartland was one of the first rated female Air Traffic Controllers in the USA.

In September 1946, when the Seabee amphibian production went into overdrive at RAC, Bill transferred to the flight-line as a Seabee test- and executive/ferry pilot. During this period, Chuck Yeager was a military test pilot stationed at RAC. Bill and Mary were friendly with Chuck and his wife Glennis and even occasionally double-dated. From roughly September 1946 to June 1947 Bill's job was to take a freshly minted Seabee from the assembly line, put it through the paces and ultimately declare it air/seaworthy. Between test flight he demonstrated Seabees to potential customers, and if a sale was made, would render enough flight instruction to bring the new owner to currency. Many potential customers conducted business in the NY City area and with the accessibility of Long Island Sound, NY Harbor, and The Hudson and East Rivers, a Seabee made great sense. Bill found himself flying into numerous waterports often.

As Bill and Mary became more serious, she had major concerns about the dangers of test piloting more than a few times... E.g. on one occasion Bill had to, unexpectedly, put a Seabee in on the Atlantic Ocean of all places! Bill left test piloting for good in June 1947, married Mary and began working as an Air Traffic Controller with the CAA at Barnes-Westfield tower in January 1948. From there he transferred to New York's Idlewild Tower (now JFK), and eventually to Bradley Tower in Windsor Lock, CT, where he retired as a supervisor in January 1979. He passed away on September 30, 1994. [Many thanks to Mr. Jeffry Wesche, for sharing this interesting information about his father].


Ture Wirén

One of the World's most experienced Seabee pilots. Ture was a Seabee pilot with Fiskflyg AB in Sweden for more than 20 years; 1978 - 1998. The webmaster got his first, and so far only, Seabee ride in SE-AXB piloted by Ture on 19 July 1999. Thank you Ture!
WANTED!!

Biographies and photos wanted for the following Seabee people:


Jack Daubenspeck - Seabee modifications
Jason K. Downer - Downer Aircraft
Hank Faller - Republic Seabee Test Pilot for CAA
John Gitz - Republic Seabee Engineer
James R. (Bob) Humphreys - Downer Seabee Engineer
Donald V. Kyte - Seabee owner/pilot expert
Russel Miller - Seabee modifications
Wendell 'Wendy' Miller - Republic Seabee Engineer
Tex Rankin - Famous racing pilot, and Seabee owner
Michel Wibault - Republic Seabee Engineer