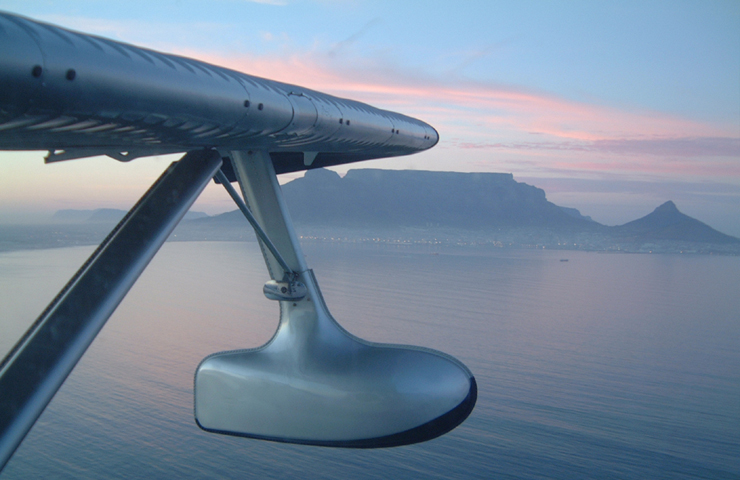 ZS-ORX
Table Mountain, Cape Town, South Africa
07 December 2003
Photo: © Mark Becker
Early in December 2003 this webmaster, Steinar Saevdal, got the opportunity to visit South Africa together with a large group of friends from all Norway to attend a religious convention - and to have a few days of holiday. December really is the perfect time to escape from the cold winter in Norway to warm summer in South Africa...

When arriving Cape Town on December 2, we could see from the windows of our Lufthansa Boeing 747-400 that the Cape area has many fantastic mountain ranges. We already felt at home... With the Signal Hill, Lion's Head, the majestic Table Mountain and Devil's Peak to the west and south of the city centre, Cape Town definitely is one of the most beautiful cities of the World! And the people were very kind and relaxed - and beautiful!

This was my first visit to Africa - so I was very excited! People had told me; 'once you have been to Africa, you will always want to go back!'. However, it was more than one reason for my excitement... For a few years I have corresponded on e-mails with Mr. Mark Becker, a co-owner of the only Republic Seabee amphibian flying in Africa, ZS-ORX (s/n 261). Realizing that he lives near Cape Town, and that ZS-ORX is based at Cape Town International Airport, this was an opportunity I couldn't miss!

Before leaving Norway, Mark and I made initial arrangements to meet, and to have a look at ZS-ORX. I also hoped that this would be an opportunity to have my second (ever) ride in a Seabee amphibian, my favorite airplane! On Monday 8 December, we finally had the opportunity to meet. Mark (in the middle) turned out to be the nicest guy, good-looking, and with a great sense of humor! Together with my friend Willy Arstad (left), we first spent some time in the hotel lounge watching Seabee photos and Seabee movies that Mark had brought with him on his laptop computer. He kindly gave me a CD-copy of the complete collection, including a video clip of the first Republic Seabee in South Africa, ZS-BEE, that was imported in 1947. Sadly ZS-BEE was lost in an accident in 1986.

Unfortunatley, Mark had some bad news regarding the Seabee ZS-ORX... On the day before we met, co-owner Brenton De La Harpe and Mark had been up early to fly the Seabee to the coast, where she was to be used as backdrop for some fashion shoots. On their way, Mark took this fantastic shot of Cape Town and Table Mountain early in the morning...

For more Seabee photos from South Africa, please click here.
After completing the fashion photo shoot, they were ready to take off from sea, when the engine lost oil pressure. The Seabee was taxiied up on the beach, where a closer examination of the engine showed oil leaking from the crank case. The crank case had cracked. (... and there went my Seabee ride...). Actually, Mark had offered me to go with him on this flight. However, I had to turn down the offer due to the convention I was attending.

After showing us the photos at our hotel, Mark kindly offered to take us for a sightseeing tour of Cape Town in his car. We visitied Sea Point, Clifton and Camps Bay on the Atlantic coast to see the beautiful beaches and the fantastic view, and have something to eat in one of the nice restaurants. We then drove to the Heli Base in Cape Town to see some of those 'wonderful flying machines' - a hangar full of helicopters! It turned out that they had a few ex military Bell UH-1H 'Huey' helicopters under restoration! We also learned that one of the Hueys was flying extreme sightseeing rides from the docks of Waterfront!

This was a chance we couldn't miss, and this could be some kind of substitute for a Seabee ride! Off we went, and soon we were lining up for a ride in the Huey.

Mark had to leave to make arrangements for getting the Seabee from the beach to the airport. The only solution would be to dismantle her on the beach and take her on a truck to the airport. However, we made an appointment with Mark that he would take us to the airport on Thursday 11 December, the day of our return flight to Norway. We would then go with Mark for an airplane sightseeing tour of the Cape Peninsula, and more important, we would hopefully get a chance to see the Seabee back in the hangars...

The Bell UH-1H ZU-CVC (c/n 9078), is officially owned by Court Aviation (Pty.) Ltd. The Huey Xtreme Club has rebuilt the 1966 Huey to as-new condition and is flying it out of Cape Town's Waterfront on a daily basis.

ZU-CVC was delivered to the US Air Force in South Vietnam in September 1967 and served there until 1974; then it was sold to Ethiopia and used in the Eritrean conflict until it was de-commissioned in 1984, with less than 3000 hours of flying in its log-book. Some years later a Johannesburg businessman bought the entire Ethiopian Air Force (about 40 aircraft, including four Hueys) and brought them to South Africa, where the helicopters were purchased by businessman and keen pilot Gary van der Merwe.

Van der Merwe and his crew of experienced technicians spent two years restoring ZU-CVC to airworthy condition and they expect to salvage two more of the four aircraft. The Huey is powered by a single 1080 kW Lycoming gas turbine, which gulps 300 liters of Jet A1 fuel per hour, flying at 120 knots (that's about 220km/h). With an 832-litre fuel tank under the floor of the cabin, it has an endurance of nearly three hours.

It's a hefty and rather old-fashioned aircraft - it is after all 37 years old - although it's enormously powerful and surprisingly maneuverable. Hueys aren't easy to fly and require a lot of concentration; flight engineer Eddie De Jager explained than the tail rotor system makes the Huey sensitive to side winds.

This powerful aircraft can lift a cargo of 2.4 tons; Huey Xtreme Club has made it available for NSRI and rescue work, and will also charter it to lift heavy items to inaccessible places. The Huey is a lot bigger than a Jet-Ranger; it seats 14 - five across on each of two bench seats and two more on an outward-facing seat on either side. There's a huge sliding door on each side - in Vietnam they always flew with the doors open and that's the way Huey Xtreme Club does it.

This is what happens: you'll be issued with a flak jacket and safety goggles (remember you'll be traveling at about 180km/h in a vehicle with essentially no sides!). There's a short but detailed safety briefing - and all the time you can hear the big rotors spinning up on the apron outside. Then the adrenaline starts to pump as you run out to the shiny olive-green aircraft and are quickly strapped in by the flight engineer.

Willy and I occupied the r/h 'gunner seats' - armed with cameras only... The weather was not perfect. However, it didn't matter if the cloud base was low. The pilot had no intention of flying high anyway!

The whole airframe shudders gently and suddenly the ground falls away; the helicopter tilts forward and rapidly picks up speed, flying due north from the Waterfront across Table Bay. For the next 20 minutes we were skimming across the beach and following the contours of the Durbanville hills, hugging the ground and jinking to avoid 'enemy fire' - there's just no such thing as "flying straight and level" until you're heading back in for the landing half an hour later. It's like a roller coaster ride with a view - only better. This was "getting high by flying low"! Flying only a few feet over ground at full speed with doors wide open and the feet sticking out in the air; only a Seabee ride can beat that!

Willy and I had the ride of our lives in the Huey! Man, if there is a 'Seabee' of the helicopters, it must be the Huey! In 1987/88 I was a tech. assistant on the RNoAF Bell UH-1B helicopters of 719 Squadron in Norway, so seeing this Huey brought back very good memories...Below are a few photos from the Huey ride...
Too quickly came the day of our departure for Norway. Mark picked up Willy and me at the hotel, and took us to the airport and the hangars. Finally, there she was; ZS-ORX 'Shaya Manzi" - the only Seabee [flying] in Africa. Her wings and tail-feathers were off - but at least she was safely back home. The mechanics had already started working on taking off the propeller and taking out the engine for repair. She still looked great, with her silver and blue "Red Bull" paint scheme!

S/N 261 (N6081K) was purchased from Todd M. Underwood in USA on 30 May 2000. She was registered ZS-ORX on 6 September 2000. The owners include Mark Becker, Brenton de la Harpe, Tjeed Beeks and Jeremy Warner, who have formed the company Oryx Charter CC. After a two-year restoration, she was ready to fly late in 2002. Before the engine crack up, the Seabee had almost the 25 hours required, before the Seabee could be allowed to be used for commercial flights.

Your web-master took several photos of the Seabee. However, for a Seabee nut and 'historian', the highlight came when Mark said he had the serial number plate and the logbooks of a Seabee that he wanted to give to me! When Becker and de La Harpe acquired s/n 261 from Todd Underwood in 2000, they also bought several parts from wrecked Seabees.

After getting the Log Books and the Serial Number Plate for Seabee s/n 286 (N6103K) from Mark, I now feel that I am a Seabee 'owner' too - well at least I have started 'compiling' my first Seabee! Mark also gave me a big stack of papers from N6103K!

The papers indicate that the final owner of N6103K was Mr. Edgar Tello of Discovery Bay, California, who was the registered owner since 13 November 1996. A NTSB Accident Report says that N6103K crashed on 30 December 1996, on ferry flight from New York to California. On take off at Santa Fe County Municipal Airport, Santa Fe, New Mexico, the Seabee lost speed and stalled shortly after liftoff. There was not enough altitude to recover and the Seabee struck ground with wheels up just outside airport, after flying under some power lines. The owner/pilot was not injured, while the passenger/flight instructor was seriously injured.
After seeing ZS-ORX and taking pictures, Mark arranged for a sightseeing flight around the Cape Peninsula in Cessna 177RG ZS-NDO. The pilot was Sid de la Harpe, Brenton's father. Sid is a 74 year old veteran military pilot with Spitfire and Vampire time in his logbooks...ex-Korean War P51 Mustang pilot and recipient of the Distinguished Flying Cross...! With Sid and Willy in front seats, and Mark and me in rear seats, we took off for a rather 'bumpy' tour. Along the Cape coast it can be quite windy, and the mountains will make the air quite turbulent. However, we had a wonderful tour around the Cape Peninsula, and we rounded Cape of Good Hope (photo) in nice weather. On return we also flew along Lion's Head, Signal Hill and the Table Mountain over Cape Town. The view was breath taking! There is no better way to experience the beautiful scenery of the Cape area than from the air!

It was quite heavy crosswinds for landing. Before the flight Mark had assured us that Sid is one the best pilots we would ever see, and now it was the time to prove it... I tell you, he was! Sid made a perfect crosswind landing! This author has been on many airplane rides in his life - but this really was the most impressive piloting I have seen! Eventually Sid will be rated as a Seabee pilot - and I am confident that Sid very soon will be one of the best Seabee pilots in the World! Crosswind landings in Seabees can be very tricky, and if there is ever going to be someone to tame the Seabee - it will be Sid...

After thanking Sid for a fantastic flight, we had a Boeing 747-400 to catch. Mark drove us to the terminal and we were very sad to have to say good bye to Mark and Sid, and leave beautiful and warm South Africa.

Thank you very much for helping making our visit to South Africa a memory for life, Mark and Sid!!! We hope that ZS-ORX is flying again soon, and that she finally will start earning her keep...

For more information and latest news on the South African Seabee, please visit the South African Seabee web page, and the News pages.

[Steinar Saevdal 2004-01-30]

Click photos for full size (in new window)!
"I feel the Earth move under my feet..."
Huey flight in Cape Town, South Africa, 9 December 2003.

Banking over beautiful Cape Town Beaches.

"Been there, done that...!!"
Huey ZU-CVC and Steinar.

Membership of Huey Xtreme Club.

ZS-ORX in hangar at Cape Town International Airport, 11 December 2003.

Happy beeing! Steinar in the cabin of Seabee ZS-ORX, Cape Town, South Africa, 11 December 2003.

These two happy guys love their job as aircraft mechanics working on the Seabee!

Sid, the Master Pilot of our Cape Peninsuala flight, 11 December 2003.

Sid and Willy enjoying the flight and the fantastic view!

Steinar and Mark being 'cool' in the back seat of the Cessna 177.

Cessna 177RG Cardinal "ZS-NDO" (s/n 177RG-1260)

Steinar, Sid and Willy doing the classic 'holding the propeller' shot...