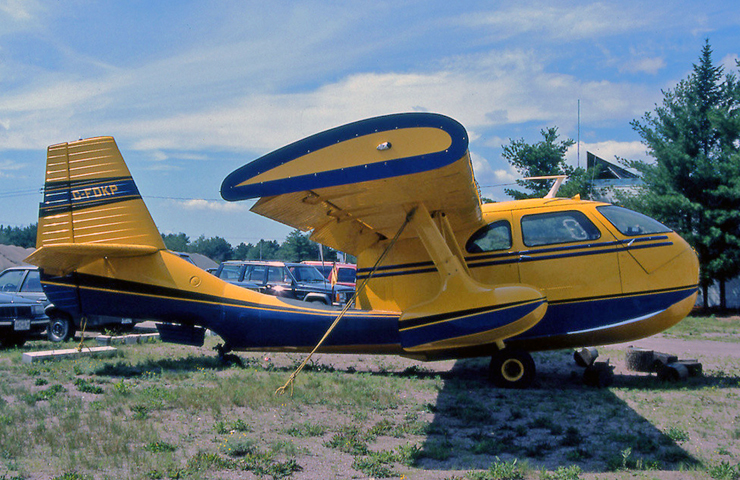 C-FDKP (s/n 810)
Muskoka (YQA / CYQA), Ontario, Canada
20 July 1990
Photo: © courtesy Derek Heley
Original photo at http://www.abpic.co.uk/photo/1031104/
AIRCRAFT DATA

Manufacturer:
Republic Aviation Corporation, Farmingdale, Long Island, New York, USA.
Model:
Republic RC-3 Seabee
Type Certificate No:
A-769
Serial Number:
810
Manufacturing Date:
1947-05-
Engine:
Franklin 6A8-215-B9F (215 HP at 2500 RPM)
Remarks:
Extended spray rails.
Extended wings.
Spill splates.
Reg. No.
Date
Remarks
CF-DKP
C-FDKP
1947-05-
Manufacturing Date.
1947-05-
Test flight.
1947-06-16
Officially delivered from Republic Aviation Corp. to Leavens Bros. Air Services, Ltd., Toronto, Ontario, Canada.
Mr. Paul Kyro;
1985-01-24
C of R cancelled.
Mr. George Rowswell;
1988-12-29
C of R cancelled.

1989-09-05

Mr.

Ross Watt; 99 Liddard Street, Bracebridge, Ontario P1L 1M5, Canada.

1999-12-29

Latest Certificate of Registration Issued.