In California in the mid-1960s some design work was done on a modern amphibian to serve as a replacement for the Republic Seabee, of which more than a thousand had been built in 1945 - 1947. However, the project lapsed until taken over in 1969 by entrepreneur David A. Hazlewood and C. S. Newton in Canada.
Trident Aircraft Ltd. was founded in February 1970 to handle design and production at Vancouver, where Canadian Aircraft Products, a shareholder, later built two flying prototypes and a structural test airframe. Actual design work began in July 1971 and the amphibian was then known as the Trident TR-1 - later it became the Trigull L300.
The prototype, registered CF-TRI-X, was first flown by Canadair test pilot Paul A. Hartman on 5 August 1973. 270 hours were logged before it was grounded for modifications and pre-production changes. During the test program Hartman had set an unofficial class record with the TR-1 by climbing it to 25 000 ft (7 620 m).
It was planned to rebuild the prototype to production standards with six seats and replace the Continental Tiara engine with a Lycoming.
Up to the time the TR-1 flew, the design and development work cost about $ 1 million and by early 1975 this had doubled, with $ 1 350 00 coming from the Federal Government in grants and loans, including from the British Columbia Development Corporation (BCDC), which later promised more money contingent on further Federal assistance.
The second flying prototype, C-GATE-X, made her first flight in the hands of Norm Ronaason on 2 July 1976 and became the company's demonstrator. Canadian DoT certification was obtained on 28 October 1976, followed by FAA certification on 16 December same year.
Production was then delayed while attempts were made to obtain additional necessary finance. In 1975 the company failed to raise capital by its own efforts from private sources and the entire program had to be reduced to a tick-over while awaiting further assistance from provincial and/or Government sources. For a time, a move of the company to the USA was being considered.
After several years of financial uncertainties and consequent delays, the signal for production go-ahead of the Trident Trigull four/six seat single engine amphibian came in June 1978 when the Canadian Minister for Industry, Trade and Commerce announced that Federal assistance for the project would be forthcoming. This decision had followed earlier, unfulfilled, expectations of Government support was eventually based on firm orders which had by then been placed. These consisted of deposits of $ 10 000 each for 43 aircraft and lesser deposits for reservations on 25 others.
The financial assistance, spelt out, consisted of a direct loan of $ 4 million and a 90 percent loss-insurance, under the Enterprise Development Program, for an additional loan of $ 2 million. By January 1979 there were reported to be 46 firm orders - 15 from Canadian and the remainder from US buyers - and options on 20. The first production aircraft - from a new factory at Victoria International Airport - was then expected to be completed about mid-1980.
Before the final go-ahead came, the project had been helped by the British Columbia Development Corporation (BCDC) and had been tacitly supported later by Canadair, which provided technical and sales assessments, and by the Grumman Aerospace Corporation which had provided technical and sales help, proposed to invest in the project and expected to become a distributor for areas outside Canada.
Despite these promising developments and a start on series production, the company again ran into financial difficulties early in 1980. Production work ceased and the staff of more than 100 were laid off.
The Trigull is an all-metal stressed-skin cantilever-wing aircraft with a single-step hull and boom-mounted tail. The prototypes were powered by Continental Tiara fuel-injected flat-six engines, but production aircraft were to be powered by Lycoming IO-540-M1A5 engines in the Trigull L300, or by a turbo-charged version of this engine for the TL350. The single-slotted flaps, tricycle landing gear and retractable wingtip floats are hydraulically powered. The water rudder, an extension of the air-rudder system, is retracted manually.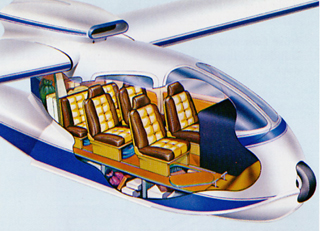 The cabin, forward of the engine pylon, is of glass-fiber construction, with access through hinged doors on each side. Five passengers, plus pilot, are accommodated on three pairs of seats. There is dual control for use when a second pilot is carried, or for instructional purposes. Fuel is carried in a bag-type tank in the lower hull, and has a usable capacity of approximately 100 US gal (378 litres). Baggage is stowed at the rear of the cabin, below the floor.