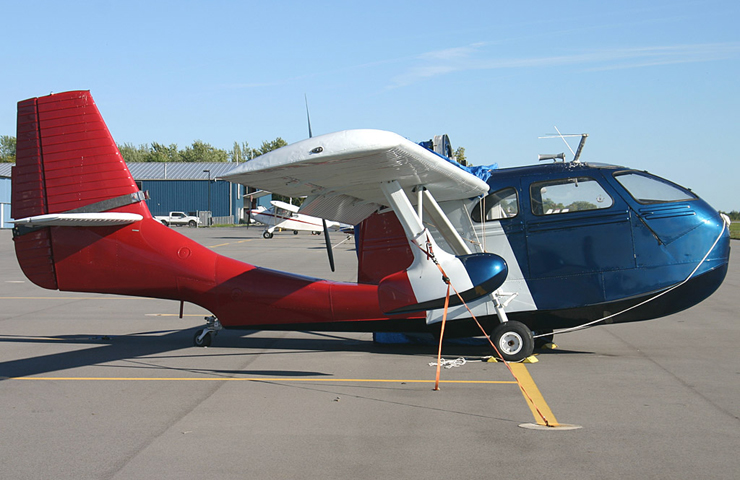 N6175K
Canandaigua Airport (D38), New York, USA
27 September 2005
Photo: © Luc Brousseau
AIRCRAFT DATA

Manufacturer:
Republic Aviation Corporation; Farmingdale, Long Island, New York, USA.
Model:
RC-3 Seabee
Type Certificate No:
A-769
Serial Number:
363
Manufacturing Date:
1947-02-??
Engine:
(1) Franklin 6A8-215-B8F/-B9F (215 HP at 2500 RPM).
(2) Lycoming GO-480 engine conversion.
Remarks:
Mode S Codes: 52005720 / A80BD0
Reg. No.
Date
Remarks
NC6175K
N6175K
1947-02-??
Manufacturing Date.
1947-02-??
Test flight.
1947-02-14
Officially delivered from Republic Aviation Corporation to Associated Aviation Co., Cincinnati, Ohio.
1955-09-26
A/W Date.
1965-08-01
Landsdown Airport, Youngstown, Ohio; The aircraft crashed with trees during emergency landing after complete engine failure. Substantial damage to aircraft. The single occupant was uninjured. Cause of engine stop was fuel exhaustion.
NTSB Identification: CHI66F0127.
(1986)
Richard L. Huish; 1898 Wick-Campbell, Hubbard, Ohio 44425.
1990-11-30
Colman L. Wagner; 401 1st Avenue SW, Clark, SD 57225-1701.
2000-10-??
Floatsome Inc.; 1313 Scottsville Road, Rochester, NY 14624-5127.
2000-10-12
Baraboo (DLL), Wisconsin; On October 12, 2000, about 0800 central daylight time, a Republic RC-3, N6175K, piloted by a commercial pilot, encountered an in-flight loss of engine power and sustained substantial damage on impact with vegetation and terrain during a forced landing in a field near Baraboo, Wisconsin. The ferry flight was operating under 14 CFR Part 91. Visual meteorological conditions prevailed at the time of the accident. No flight plan was on file. The pilot and pilot rated passenger were uninjured. The flight was on initial climbout from Baraboo Wisconsin Dells Airport (DLL), near Baraboo, Wisconsin and was destined for Genesee County Airport, near Batavia, New York.

The pilot stated, "Perfect VFR weather. At about 0715 local, the aircraft was fueled and preflighted. One quart engine oil added. Engine was started and run to verify operation. Engine operation was smooth after engine was warmed up. Aircraft was taxied to runway 19. Magneto, carb heat, and propeller operations all checked - normal operation during run-up. Engine response was accurate and smooth. Flap operations checked and set for takeoff. Pre takeoff checklist completed. At about 0800 local, taxied into position. Applied full power and verified normal manifold pressure and propeller RPM. During takeoff roll prop RPM observed steady at bottom of yellow arc, about 2450 RPM. Liftoff occurred at approximately 55 mph. Aircraft accelerated to about 75 MPH and climb rate increased to greater than 250 feet per minute on VSI (observed). Between 250' and 400' AGL airspeed began to decay and climb rate decreased quickly. Pilot reduced pitch attitude to maintain airspeed (no change in engine sound was obvious after power and prop were set for takeoff). Prop, throttle, mixture, and carb heat verified full forward, no change in performance observed. Traffic pattern turn abandoned as climb rate and airspeed continued to decay. Aircraft pitch attitude was continually being reduced to maintain flying speed. Control became difficult (control feel 'mushy') and return to runway seemed impossible. Altitude was decreasing quickly. At this point I estimate height AGL at less than 200'. Aircraft was turned into wind, towards best field. Avoided obstacles and landed in corn field.

The pilot stated that the airplane damage was a broken left main gear, damaged right wing sponson, damaged right wing tip, and cracked right wing spar. The pilot listed the mechanical malfunction as, "Intake valve spring failed on #5 cylinder. When spring failed, allowed intake valve to remain open. Failure disrupted entire engine function."
NTSB Identification: CHI01LA013.

2001-04-18
Floatsome Inc.; 1313 Scottsville Road, Rochester, NY 14624-5127.
2013-12-02
Mary Ann Schnabel; 2076 Manitou Road, Spencerport, New York 14559-9513.
Sources:
RAC Seabee Delivery List.
FAA Registry.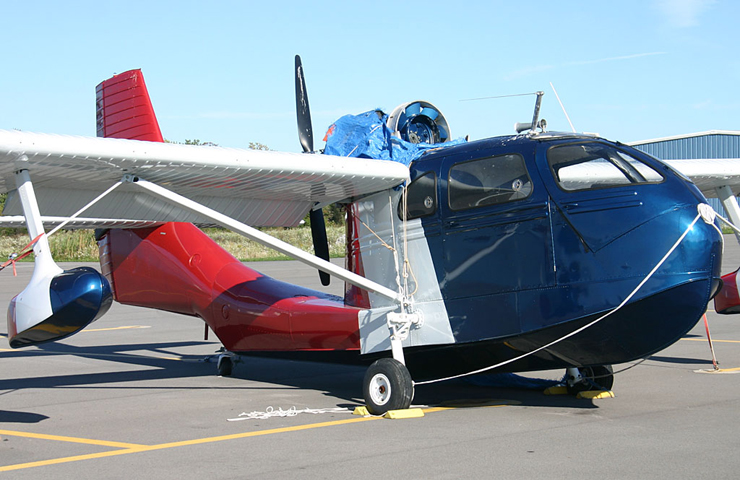 N6175K
Canandaigua Airport (D38), New York, USA
27 September 2005
Photo: © Luc Brousseau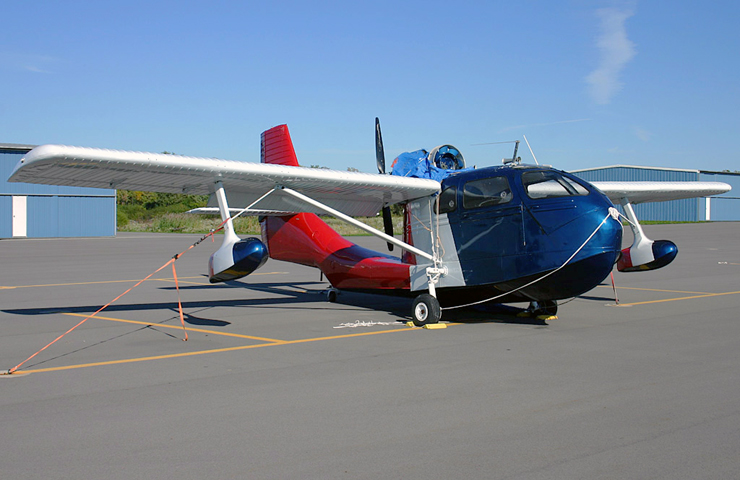 N6175K
Canandaigua Airport (D38), New York, USA
27 September 2005
Photo: © Luc Brousseau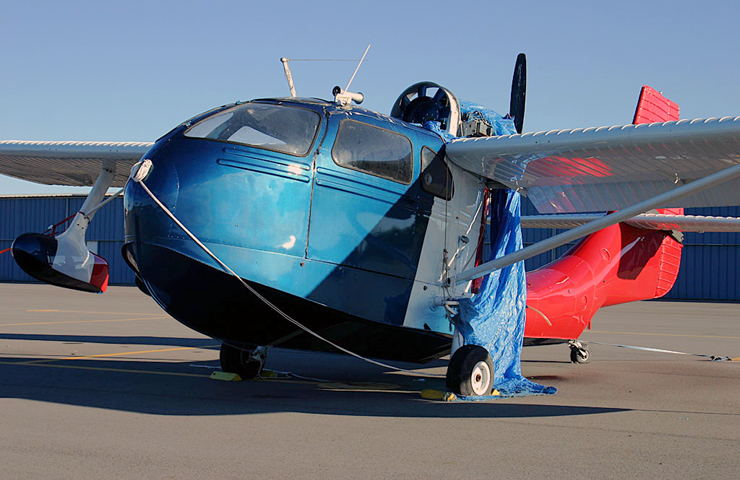 N6175K
Canandaigua Airport (D38), New York, USA
27 September 2005
Photo: © Luc Brousseau