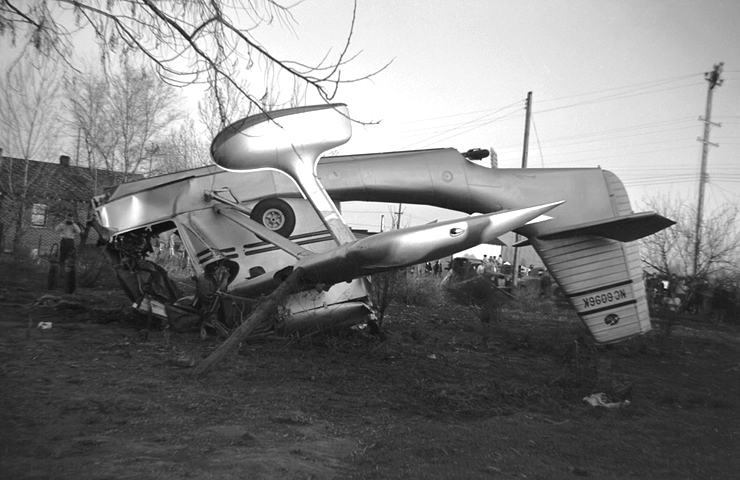 NC6096K
Klamath Falls, Oregon
after crash on 23 February 1947
Photo: © Steinar Saevdal Collection
AIRCRAFT DATA

Manufacturer:
Republic Aviation Corporation; Farmingdale, Long Island, New York, USA.
Model:
RC-3 Seabee
Type Certificate No:
A-769
Serial Number:
279
Manufacturing Date:
1947-01-??
Engine:
Franklin 6A8-215-B8F (215 HP at 2500 RPM)
Remarks:
Mode S Codes: 51765742 / A7EBE2
Reg. No.
Date
Remarks
NC6096K
1946-??-??
Manufacturing Date.
1947-??-??
Test flight.
1947-01-21
Officially delivered from Republic Aviation Corporation to Rankin Aviation Industries; Tulare, California, USA.
1947-02-23
Klamath Falls, Oregon: The Seabee took off from Klamath Falls Municipal Airport, Oregon. Seven miles from the airport the aircraft struck a 70 foot high tension electric cable that overturned their airplane, causing it to fall on its nose. Pilot was John G. ("Tex") Rankin of Rankin Aviation Industries, with passengers Lanier S. Wallan, Jack Elie and M. J. S. Thompson. They were bound for a Seabee dealer's meeting at Victoria, Washington. Tex, Cy Wallan and Jack Elie were killed and Buzz Thompson suffered a fractured arm and concussions.

Tex Rankin Crash Victim

KLAMATH FALLS, Ore., Feb. 23 (AP) - Tex Rankin, nationally famous auto racing and airplane stunting champion, was killed near here today in the crash of an amphibian airplane he was piloting that also carried two others to their deaths and injured a fourth.
The other victims were Cy Wallan and Jack Elie, airport operators here who were riding in the airplane Rankin was demonstrating. The ship struck an electric power line after take-off and piled into the garden of a residence seven miles from the airport at 12:10 Eastern Standard Time p.m.
Buz Thompson, a passenger, was in hospital and his condition was not known immediately.
Rankin was piloting a Republic Seabee craft for which he was west coast distributor. The airport here had no explanation for the crash.

[The Times Recorder; Zanesville, Ohio, Moday, February 24, 1947].

1952-11-25
Cancelled from CAA Aircraft Register.
Sources:
RAC Seabee Delivery List.
FAA Registry.
Barry Collman.
Matt Miller.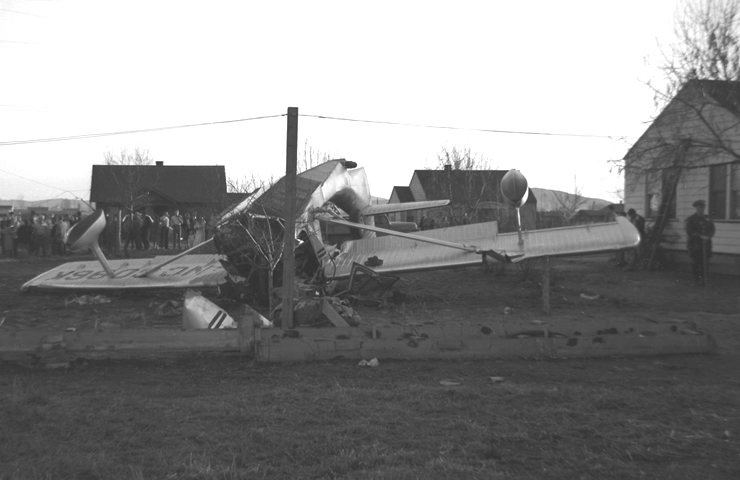 NC6096K
Klamath Falls, Oregon
after crash on 23 February 1947
Photo: © Steinar Saevdal Collection