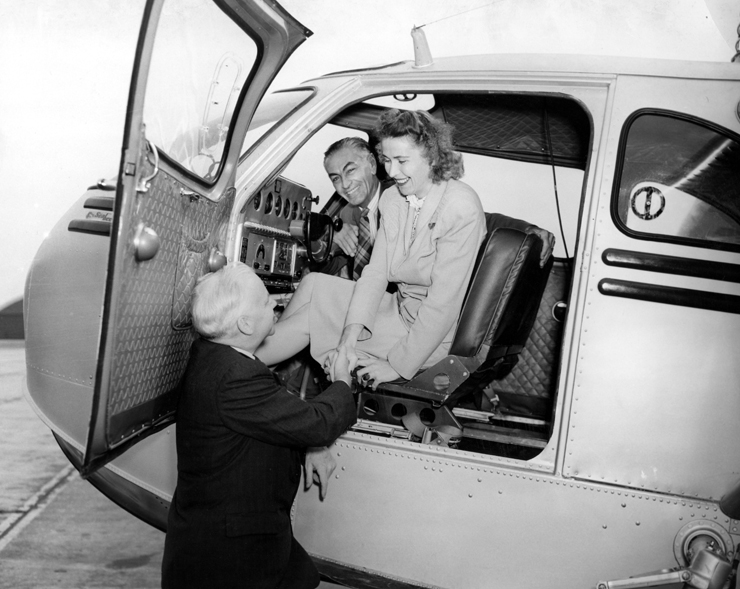 XB-COH
Marking the official delivery of the first Republic Seabee to go to the foreign export market outside the United States, Gordon C. Sleeper, Sales Manager of the Personal Plane Division of Republic Aviation Corporation, is bidding good-bye to Helen A. Duffy and Prosper G. Tomich, Seabee distributors for all of Mexico as they prepare to take off from Republic's Long Island Field for their flyaway trip to Mexico with XB-COH (s/n 31) in September 1946.
Photo: © Republic Aviation Corp.
AIRCRAFT DATA

Manufacturer:
Republic Aviation Corporation; Farmingdale, Long Island, New York, USA.
Model:
Republic RC-3 Seabee
Type Certificate No:
A-769
Serial Number:
31
Manufacturing Date:
1946-08-??
Engine:
Franklin 6A8-215-B8F (215 HP at 2500 RPM)
Remarks:
Reg. No.
Date
Remarks
XB-COH
1946-08-??
Manufacturing Date.
1946-08-??
Test flight.
1946-09-03
Officially delivered from Republic Aviation Corporation to Productos Aeros Pan Americanos, Mexico, D. F., Mexico.
Sources:
RAC Seabee Delivery List.
RAC Seabee Export List 1948-11-15.
Air Britain "Archive" 1981 No. 3/4.