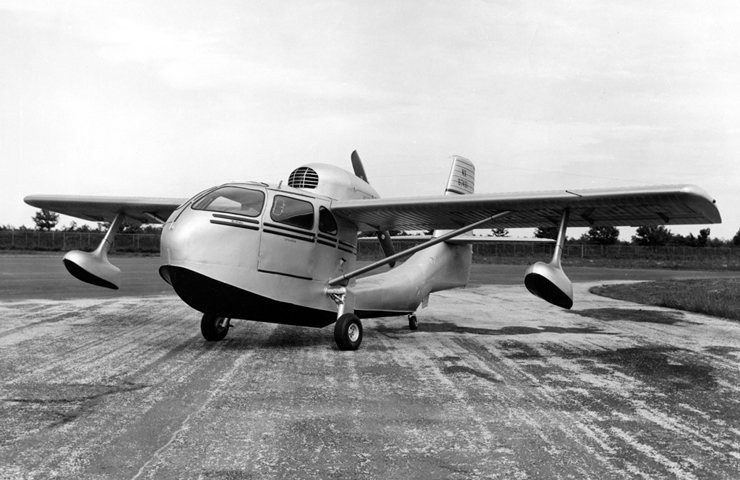 NX87461
Farmingdale, Long Island, New York, USA
1946
Photo: © Republic Aviation Corporation / Steinar Saevdal Collection
Large
AIRCRAFT DATA

Manufacturer:
Republic Aviation Corporation; Farmingdale, Long Island, New York, USA.
Model:
RC-3 Seabee
Type Certificate No:
A-769
Serial Number:
11
Manufacturing Date:
1946-??-??
Engine:
Franklin 6A8-215-B8F (215 HP at 2500 RPM)
Remarks:
Mode S codes: 53004166 / AC0876
Reg. No.
Date
Remarks
NX87461
NC87461
1946-??-??
Manufacturing Date.
1946-??-??
First test flight.
1946-07-15
C of R issued to:
Republic Aviation Corporation; Farmingdale, New York.
1946-11-14
C of R issued to:
W. H. Marden Airways, Inc.; Municipal Airport, Waterville, Maine.
1946-11-15
Officially delivered from Republic Aviation Corporation to Marden Airways, Inc.; Waterville, Maine, USA.
1947-02-28
C of R issued to:
Paul K. Dudley dba Dudley Aviation Sales Co.; 87 Water Street, Fitchburg, MA.
1947-09-07
Crashed at George Fitch Farm, north of Potter, New York.

Three Victims Of Air Crash in Hospital Here

Three Fitchburg, Mass. men were injured yesterday when their four passenger plane went out of control and crashed in a field near Potter.
Paul Kenneth Dudley, 30, and Norman Larabee, 30, of Fitchburg, Mass., were reported in fair condition in Thompson hospital today by Dr. Charles L. Bobeck, their physician. A third Fitchburg man, Richard Garvey, 18, was reported to be in good condition. The trio was injured yesterday when a four passenger Seabee amphibian plane, owned and piloted by Dudley, crashed on the George Fitch farm north of Potter.
Dudley received a fractured skull and shoulder girdle, several broken ribs and a deep forehead laceration. Larabee received multiple fractures of the right leg and foot and body bruises. Garvey suffered a fractured right leg, lacerations of the right leg and left hand and a cerebral concussion of the brain. All are suffering from shock.
According to Trooper William Keeley, BCI investigator, the plane fell from an elevation of about 1,200 feet and was completely demolished. Dudley told Keeley that he was flying between 1,200 and 1,300 feet and lost control of the plane when it hit a vertical gust of air. A number of nearby farmers witnessed the accident.
Injured were treated at the crash scene by Dr. F. M. Chaffee of Middlesex and then taken to Thompson Hospital by car and ambulance.
Cpl. Frank Donovan and Trooper A. B. Ryder of Penn Yan substation assisted Keeley in the investigation. The Civil Aeronautics Administration of Rochester has been notified.

[The Daily Messenger, Canandaigua, N. Y., Monday, September 8, 1947]


1948-02-06
Cancelled from CAA Aircraft Register.

"It has been decided by us that this aircraft can not be satisfactorily repaired therefore it has been dismantled in such a way that it will never be in flight again".

Sources:
RAC Seabee Delivery List.
FAA Aircraft Registry.
Barry Collman.
Matt Miller.